Are you a Mario Kart fan? If so, you are in for a treat as this new Coconut Mall mod brings the iconic Coconut Mall song to Friday Night Funkin. Here's everything you need to know.
Friday Night Funkin
Developed by @ninja_muffin99, FnF is a 2020 released rhythm game that features a funny love story. The story is of a boy who tries to impress his girlfriend but isn't able as he faces hurdles on his path. He has to fight whoever stands in his way in a battle of music and defeat them. The player takes control of the boyfriend and has to hit the right key on time to help him win. The music on which the player has to battle his opponents changes every level and each week has a new opponent which has 3 new levels.
The game gets updated every 2-3 weeks and with each update, new and improved characters and tracks are added. However, the tracks added are totally random and new. But some players like to enjoy the iconic songs when they battle their opponents. So, for them, this mod is perfect.
Coconut Mall- Friday Night Funkin
The Mario Kart song, Coconut Mall is somewhat a legendary track. So, how about fighting your opponents on this song? This mod features a custom song, Coconut Mall which replaces the song from Week 4 named High. It also contains custom charts and changed voices to feel more real. A pretty neat mod.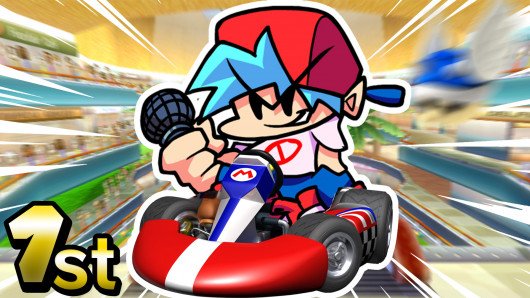 How to download this mod?
You can head over to the official GameBanana Website or you can find the direct download link here.
After downloading, extract the files and replace them with the original game files.
Credits-
Game Developer– @ninja_muffin99
Mod Credits– i-win
More Mods-
If this isn't enough for you, we have a ton of other mods for FnF. Here's a list of some of the most popular ones-
Fun Sized Whitty Mod- Click here
Dancin Mod- Click here
Pico styled Bf mod- Click here
Rin Kagamine Mod- Click here
Pico vs Evil Boyfriend Mod- Click here
Among Us mod- Click here
B side mod- Click here
BLU Mod- Click here
Multiplayer mod- Click here
Hatsune Miku mod- Click here
Link and Zelda mod- Click here
Minus Mod- Click here
CG5 Mod- Click here
VS Annie Mod- Click here
There are mods available that can even be played directly from your browser without having to download them. To know more, visit here.