BoxyCharm refers to a monthly subscription service that sends 4 to 5 full-size brand name beauty products at your door each month priced at just $21. The boxes are priced at $100 per box and includes free shipping if you are a subscriber from U.S. Compared to other subscription services that provide mini or deluxe samples, BoxyCharm provides 4 to 5 full-size products every month. You will get a variety of products from popular beauty companies like Tarte and Tatcha and from other emerging labels. It was launched in the year 2013. Joe Martin is the founder and CEO and it later turned into a multi-million dollar company.
The subscription of BoxyCharm includes access to the exclusive Charmer community of BoxyCharm. The Charmer community shares tutorials and looks in social media for helping you to use the BoxyCharm products. You will get access to members-only offers from the popular beauty brands and a chance to win free products through BOXY-Giveaways. The exclusive Charm Shop also has a reward point system which can be used to redeem for your favorite beauty products. It is the best option for those who love brand name makeup and beauty items but don't wish to pay a full price. There are different brands to choose from and you can customize your box to fit the brands that you love the most.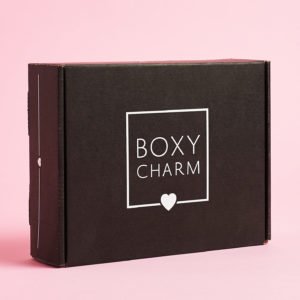 Now, you must wonder when does the company ship each month. Well, let me tell you that you don't have to resubscribe every month in order to receive your Boxys because BoxyCharm is an automated subscription service. When you subscribe and pay for your first box, you will be placed automatically on a recurring payment schedule according to your selected subscription term. Then, you have to pay on the first day of every month moving forward for the box of that month.
Every month, you will get a tracking email within 15 days from the date of payment. BoxyCharm ships in batches and so you might receive the tracking email at different times every month. Prepaid boxes will be shipped within 15 days from the first day of every month. If you change your mind and want to stop the subscription before it gets renewed, you need to cancel it by 11:59 p.m. ET on the last day of the month.