Note: New updates are added at the bottom.
Xiaomi has been seeing both the ups and downs in the industry lately. Well, yes we have seen some great devices coming straight from Xiaomi in the past few months. Apart from the massive love and success these devices brought to Xiaomi, there's also a lot to talk about updates. While the Mi A3 update issues took Xiaomi slightly down, the upcoming MIUI 12 has been in the headlines for quite a long time now. MIUI 12 is the latest iteration of MIUI for Xiaomi and Redmi devices. MIUI 12 comes with the upcoming Android 11. It's going to be one of the prominent major updates for Xiaomi.
MIUI 12 has been in development for quite a long time now. We have also seen the Android 11 DP3 coming out a few days back. This makes the way for Beta builds before the final and stable release.
MIUI 12 Beta applications started:
Well, users have been wondering about the upcoming MIUI 12 a lot. A few days back, we also saw that Xiaomi will be officially announcing the MIUI 12 today, 27 April, alongside the Mi 10 Youth 5G. The online launch event will be showcasing the much-waited version of MIUI. MIUI 12 will pack a lot of amazing features, some of which we saw a few days before in leaks alongside the UI design leaks.
Since then, users have been possibly looking for eligible devices that will bag the update. We also shared a list of those lucky devices but as we said earlier that was not the official list. So, when will the official list and roadmap be out? Nice question, pal. It seems Xiaomi has already thrown a hint for us. Well, we know that Xiaomi has this Beta program to try out the upcoming updates before the official release. Yes, you are right!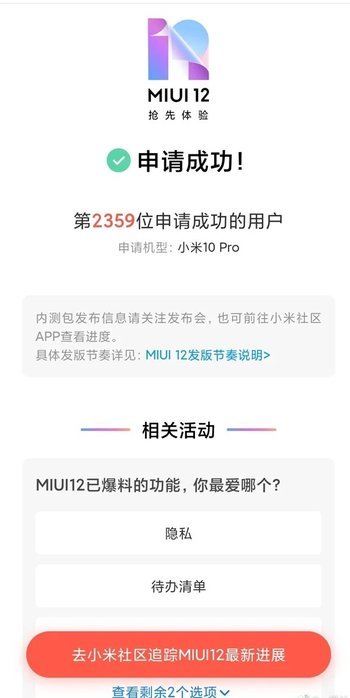 Xiaomi has started the official Beta applications for testing the MIUI 12 Beta build. Along with that, Xiaomi listed a handful of devices that are eligible for the Beta program. The list contains many Xiaomi and Redmi devices. This makes it pretty clear that all these devices in this list will be bagging the MIUI 12 update. Here is a list of all those devices:
Mi 10 Pro
Mi 10
Mi 9 Pro 5G
Mi 9, Mi 9 SE
Mi 8 Screen Fingerprint Editio
Mi 8 Youth Edition
Mi 8 Explorer Edition
Mi 8 SE
Mi 8
Mi 6
Mi 6X
Mi CC9 Pro
Mi CC9
Mi CC9 Meitu Custom Edition
Mi MIX 3
Mi MIX 2s
Mi MIX 2
Mi Note 3
Mi Max 3
Mi 10 Youth Edition
Redmi K30 Pro
Redmi K30 5G
Redmi K30 4G
Redmi K20 Pro Premium Edition
Redmi K20 Pro
Redmi K20
Redmi Note 8 Pro
Redmi Note 7Pro
Redmi Note 7
Redmi Note 5
---
SEE ALSO:
---
That's a pretty huge list, right. But, hey, the more the devices, the better it is. Isn't it? While these are all those models that are officially listed by Xiaomi to get the update, there are still a lot of devices left out. Some devices are still a matter of confusion if they will get the update or not. Devices from the Poco series namely the Poco F1 and X2 are not listed. However, we are pretty sure that the Poco X2 will bag the update and talking about the Poco F1, we saw that it will be getting MIUI 12 update based on Android 10 with many features ported from Android 11.
So, the list contains more than around 30 devices. If you see your device up there, go ahead and fill the application enjoy the features of MIUI 12 ahead of its official and final release.
Stay tuned for further updates on MIUI 12 and more such related content. Also, share this article with all those people who have been eagerly waiting for the MIUI 12 update.
---
UPDATE: MIUI 12 Download Links