Have you ever wanted to be a ball, rolling down structures with green lines and black insides, surrounded by buildings of the same kind? Well, look no further, as we've got the perfect game for you! For those of you who've never wanted to be that ball, Slope is still a fun game for you to try out. Let's see more about Slope unblocked and how you can play it:
Slope
In another addition to the Flash era type game, Slope is a game that follows a ball rolling down, yup, you guessed it, a slope! The ball is made of green lines, much like everything in the game. The game has a massive expanse filled with green buildings, which surround our ball throughout its rolling down the slope journey. While the concept sounds simple, the game is extremely hard to play. I say that with personal experience, as I struggled to get beyond a score of 15. Much of the reason for the difficulty is the changing degrees of slopes.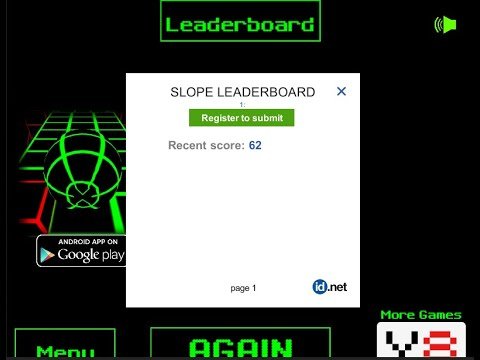 The gameplay mechanism involves moving either left or right, which can be done by using arrow keys for the same or Q and E keys, or the A and D keys for left and right respectively. The slopes are randomized every time, making up for a unique challenge whenever you decide to give it another go. The randomized slopes are sometimes narrow, slanting, and have huge red blocks that obstruct the way. Touching the red blocks is an instant game over. Over time, your ball gains speed and it gets harder to maneuver through the map. All in all, Slope is an amazing game that is simple enough to understand but definitely hard to play.
Slope Unblocked
So you've made up your mind, to play Slope no matter what! However, the game is most probably restricted at your school or workplace. What do you do then? Worry not, we have just the solution. Slope Unblocked is the unblocked version of the game Slope. For those of you who don't know what unblocked is, it is a way of bypassing restrictions placed upon certain networks, to let you enjoy the games you want.
Slope Unblocked can be found here:
To read about other Unblocked games, click here: