Friday Night Funkin' is one of the most popular indie games in town right now. We've covered what, we've covered why, we've covered several aspects of the game here on Digistatement. Today, let's take a look into Friday Night Funkin' Game Chromebook unblocked and where you can find it:
Friday Night Funkin' Chromebook
Friday Night Funkin' is an indie game that features a 2D art style and a DDR-esque gameplay mechanism. The game is a favourite of the indie gaming scene, especially since the discontinuation of Flash. Gamers from across the globe are quickly flocking around games that remind them of the glory days of gaming, the Flash era. Friday Night Funkin' is also a favourite for the fans of Newgrounds, largely due to the animators that are featured in the game.
Owning to the nature of the game, Friday Night Funkin' is a relatively easy game to understand and play, but have no doubt when I say, the game is extremely terrible to master. Friday Night Funkin' can be played on many devices due to its simplicity, and today we'll look into Friday Night Funkin' Chromebook gameplay.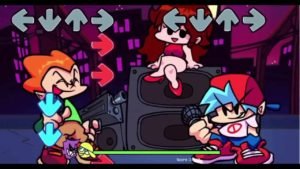 For those of you who don't know what Chromebooks are, they are laptops that run the Linux based Chrome OS system. These devices store most of its data on the cloud and have limited functionality as compared to normal Windows or macOS based laptops. Chromebooks are used for tasks that run on Google Chrome browser, along with features to run Android apps. The simplicity of the devices, accompanied by low costs have made Chromebooks quite a success in the education sector. Running restrictions on internet usability and the inability to do much offline makes the perfect machines for students. This ensures a reduction in leisurely or undesired activity that can be indulged into by students.
So, how do we go around these restrictions? The answer is simple, Unblocked games. Unblocked games are games that allow you to play games that have been restricted in professional settings, in this case, schools.
You can find Friday Night Funkin' unblocked here:
To read more about Friday Night Funkin', please visit the articles below: