Note: New updates are added at the bottom.
Original Post (April 21): Xiaomi is not just famous for its affordable yet feature-packed smartphones. One of the main reasons why Xiaomi is what it is today is because of its user-friendly interface and custom OS that runs based on Android OS. The custom OS of Xiaomi is called MIUI. The latest version of the OS is MIUI 11. Another reason why the brand has such a wide reach is due to its service of regularly updating the audience with what's upcoming and what's new and keeping pushing the promised features. Having said that, MIUI 12 is the upcoming OS from the brand, and the latest news about that is exciting.
We recently reported to you all that MIUI 12 to arrive earlier than expected. You need to know that the software is still in a building process. Also, we just receive the hottest news about MIUI 12 closed beta. It seems like a piece of leaked information suggests all we need to know about MIUI 12 Beta.
MIUI 12 Closed Beta Update made available-
Unofficial screenshots have been suggesting that a closed beta update has been made available. The beta update is provided for some selected beta testers of the official team. Fun fact, the beta version goes through some major testing by the internal team before selective users receive the beta update. The screenshot of the MIUI 12 beta update being available has been leaked illegally and the world can't wait to learn more about it!
It seems that around 60 beta testers who are a part of the integrated team of developers have received a closed beta update of the next iteration of MIUI. What you see above is the screenshot of the update being provided to the selected ones. The lower portion of the screenshot is the official changelog. Check the image given below to find the translated details that are from the leaked screenshot described in Chinese (from Google Translate).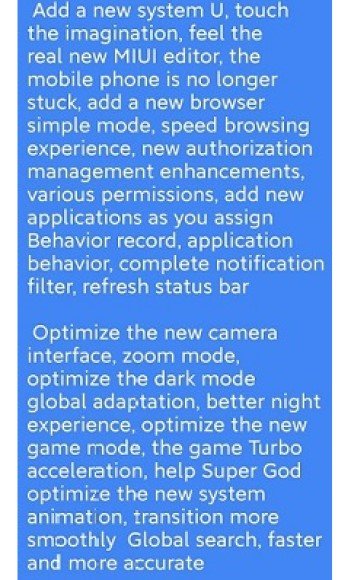 With most of the official images being confirmed on our site already, it only hypes us all a lot more as the release date nears. There have been quite a few suspicions on how real or fake these images are. A Xiaomi-centric tweep has posted that at least three people have assured and confirmed that the screenshot is legitimate, and we can expect more information very soon.
Do check out the cool features MIUI 12 update will bring along for its users.
MIUI 12 Features-
Given below are some of the features and improvements that we can look forward to in MIUI 12.
Most of the custom OS updates make major changes in the integral appearance of the device itself. MIUI 12 being one of them too, you will get to see a major change in icons and widgets appearances. You will also see new animations (like the one when you plug-in for charging). As the screenshots suggest, animation also includes better and smoother transitions.
MIUI 12 has been promising improved dark mode and game mode for long. The dark mode is a thing to work alongside Android 11 OS. The game mode is all that users are excited about because it will be an exclusive part of Xiaomi devices.
Developers are understanding that users are utilizing the selfie camera as much as they do with the rear camera. With MIUI 12, we will get to see slow-motion mode for the first time in selfie cameras for Xiaomi devices. There are also other camera optimizations confirmed whose exact details are yet to be revealed. The above images confirm that the next custom OS will be paying more attention to camera features.
MIUI 12 has been emphasizing on better browsing experiences with Xiaomi devices. There has been news that you might get to see better search optimizations internet-wise as well as for in-device searches. All that users can do is wait for more exact information on what exactly search optimization is pointed toward. Click the link below to read or full-fledged article on MIUI 12 Features and details.
---
---
MIUI 12 Release Date-
Earlier, MIUI 12 was unofficially (yet with numerous hints) expected to be released in October 2020. But surprise! MIUI 12 is all ready to be released in China on the 27th of April 2020. The global version might be announced with the launch of the stable Chinese version. Above all, this version will release alongside Mi 10 Lite in China.
We will update this article when we receive further information about MIUI 12, so stay tuned. Also, share this article with all those who are waiting for the update!
SEE ALSO:
---
UPDATE : April 27:
Miui 12 download links now available for some devices. You check out the more details by below: