Chinese Smartphone maker Xiaomi recently announced that it has shut down the development of MIUI 11, which indirectly means the development of MIUI 12 has begun. Most of the eligible Xiaomi devices have got the MIUI 11 update based on Android 10. So, now Mi fans are looking forward to the next version of MIUI and want to know whether their smartphone is eligible to get the MIUI 12 update or not.
Earlier, we have seen several lists of eligible Xiaomi devices to get MIUI 12. We have also reported what features MIUI 12 is likely to get. Recently a list of devices was also surfaced online that are likely to get the MIUI 12 based on Android 11.
There are several lists and other information over the web that makes it difficult for Xiaomi users to check their device eligibility for MIUI 12. Well, now this problem might have just solved as there is a new app in the market called "MIUI 12 Eligibility Test". Using this app, anyone can easily check the eligibility of MIUI 12 of one's device.
How to Use MIUI 12 Eligibility Test App:
 Download and install the app from the Google Play store by clicking on the link below.
Download MIUI 12 Eligibility Test App
Open the app, and if the app detects your device, Click on the Check button.
Once, you click on the Check button; the app will tell you whether your device is eligible for MIUI 12 or not.
Well, the app is quite simple to use and is also just about 7MB in size. Some users installed the app on their Mi Max 3, and Mi 9 SE and both the device are eligible to get MIUI 12. Check out the screenshots below: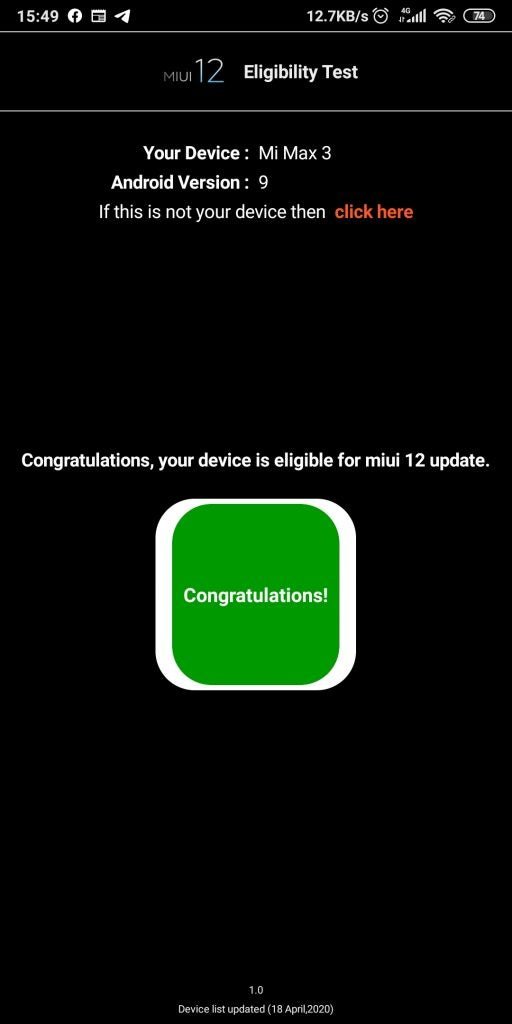 Note This app is not official, So we will recommend you to take the results of the app with a pinch of salt. However, the latest Xiaomi devices will definitely get the MIUI 12 update, and the concern is about the phones that are getting older.
---
SEE ALSO:
Rest assured, we will be updating you as and when any official lists or news about MIUI 12 arrives. Stay tuned.