For mods to game info, we've covered several aspects of Minecraft. In this article, we'll talk about anvils in Minecraft and how you can get started with your metalworking journey, in Minecraft. Here's how to make an anvil in Minecraft: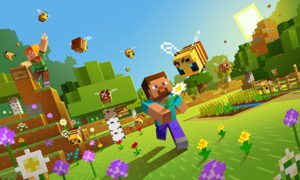 Minecraft
Fighting monsters, farming, fishing, building, demolishing, and most importantly, mining. Everything is possible is Minecraft. Minecraft is a sandbox game that has a humongous open world to explore and versatile enough to give players a plethora of options, in just about everything. Apart from the number of activities you can do, Minecraft has a creative mode to let your inner creator run amok. There's an endless supply of blocks, and your imagination. Minecraft is regarded as one of the, if not the best games in the world. For the same reasons, Minecraft happens to be one of the most bought games across all platforms, with over 200 million copies sold!
To read more about Minecraft and its mods, please visit the links below:
Anvils in Minecraft
Anvils are items in Minecraft that allow a player to combine enchantments and repair items, among other things. For those of you who have seen Coyote and The Roadrunner from Looney Tunes, anvils are the pointed triangle top and rectangular bottom items that keep dropping on the Coyote.
To create an anvil in Minecraft, you'll need iron blocks, iron ingots, and of course, a crafting table. Creating an anvil is an easy task.
First, place 3 iron blocks in the top section of your crafting table. Then, place one iron ingot in the middle of the crafting table, followed by 3 in the bottom section, and voila! This will conjure an anvil, which you can then put in your inventory.
Once in your inventory, You can choose it and place it on the ground. Right-clicking will enable you to combine, repair, and also rename items.