Minecraft has received a lot of mods since its conception. From emulating various famous anime shows to realistic additions to the local terrain. With Minecraft, the possibilities are endless! In today's article we'll see how to use and download the Minecraft Weather Mod: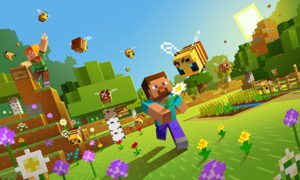 Minecraft
Let's see a brief introduction to Minecraft. Minecraft is a sandbox game which follows our player through their journey in the 8-bit world. The game enables our player to do pretty much everything, from building houses, fishing, hunting, farming, slaying monsters, and of course, mining. The possibilities are endless! Minecraft as a whole has heavily influenced the gaming world and is one of the most, if not the most, popular games to ever exist.
Minecraft Weather Mod
So what is the Minecraft Weather Mod? Minecraft Weather Mod changes the in-game weather to a much more authentic and yet more extreme weather. This means the mod adds several features like tornadoes, storms, hurricanes, etc. And the best part is, these calamities will hit you without warning! You can control the weather yourself too, which involves calling tornadoes and storms at your own will. Let's look into the specifics of the mod:
The main features of the mod, as mentioned on the site, include:
Weather Systems

Localized rain can occur after it builds up humidity over high humid biomes or water.

Warm and cold particle based weather fronts spawn in, when they collide they can create a storm that will develop into deadlier storms.

Stages are: lightning, high wind, hail, tornado touching down all the way to F5, if over ocean, it will be a large cyclone all the way to hurricane.
Tornadoes

Tornadoes that tear up the terrain and throw around entities, pulling them into the deadly vortex, can be configured for what it grabs.
Blocks and Items

– Weather Radar to see active storms in the area
– Weather Machine that can spawn and keep a storm over a specific area
– Weather Deflector to keep an area safe
– Weather Siren to alert you of deadly storms
– Weather Sensor that activates redstone when deadly storms are near
– Anemometer to get a wind speed visual
– Wind Vane to see the winds direction
– Layered Sand that the sandstorm places
– Pocket Sand to troll your friends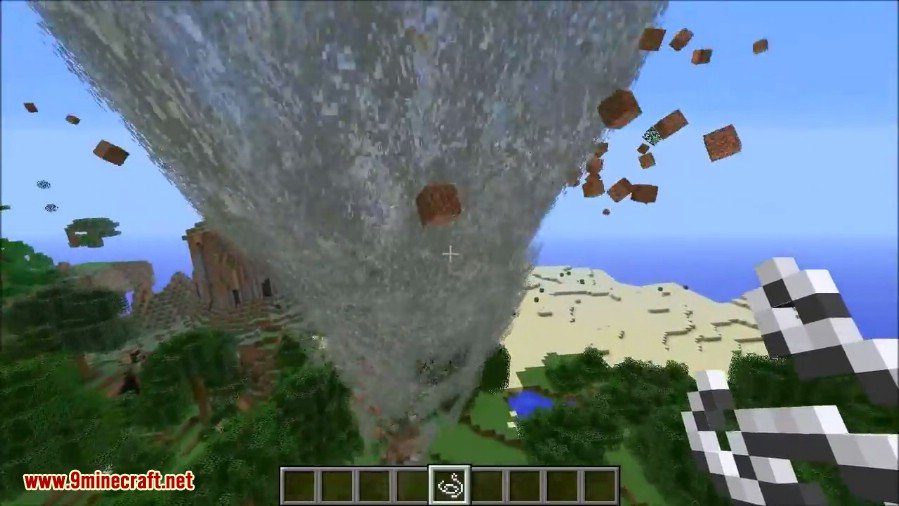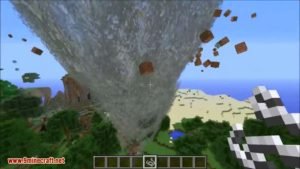 The download links can be found in the links below:
The mod can be seen in action here:
To read more about Minecraft and its mods, please visit the links below: