Gaming smartphones are gradually hitting new heights. The demand for gaming smartphones from scratch to the extreme within a very short period. Though it all began with the ASUS ROG Phone, gaming fever has now caught up other famous brands too. The recent reveal was Lenovo coming into the game with its famous Legion model to smartphones and now, Xiaomi has announced its Black Shark 3, which is expected to be a complete flagship, gaming package.
The Xiaomi Black Shark 3 is a premium, feature-packed device that is all set to be officially announced. Though there are very limited details revealed about this model, we present to you all the specifications, expectations and important details about the Xiaomi Black Shark 3.
Xiaomi Black Shark 3 Specifications, Features-
Starting off with the display features, though there are not many details revealed, we can assuredly say that the device will equip a variable refresh rate with a 2K resolution display. This means that users can cycle through 60 Hz, 90 Hz and 120 Hz rates, to control its impact on the power/ battery consumption when necessary, as per users' requirements.
The brand manager of Xiaomi posted on Weibo a poll that distinguished battery charging + capacity + cycles of gaming smartphones. Analyzing that post, we can draw conclusions that the Black Shark 3 will equip a massive 5000mAH battery that will charge from 0% to 100% in 38 minutes and will work so for complete 800 cycles. The reason behind this confirmed news is because the other battery options are currently available in other smartphones and the Black Shark 3 will roll-out with a fresh cycle and best battery feature in-game (check image for reference).
Another major detail revealed is that this ultimate gaming mobile will definitely be run by epic features like pre-installed Android 10 OS and the flagship Snapdragon 865. The device will arrive with a 65W charger in the box and a 12GB to 16GB LPDDR5 RAM. The device will likely equip a triple camera at the rear end with 64MP as the primary sensor.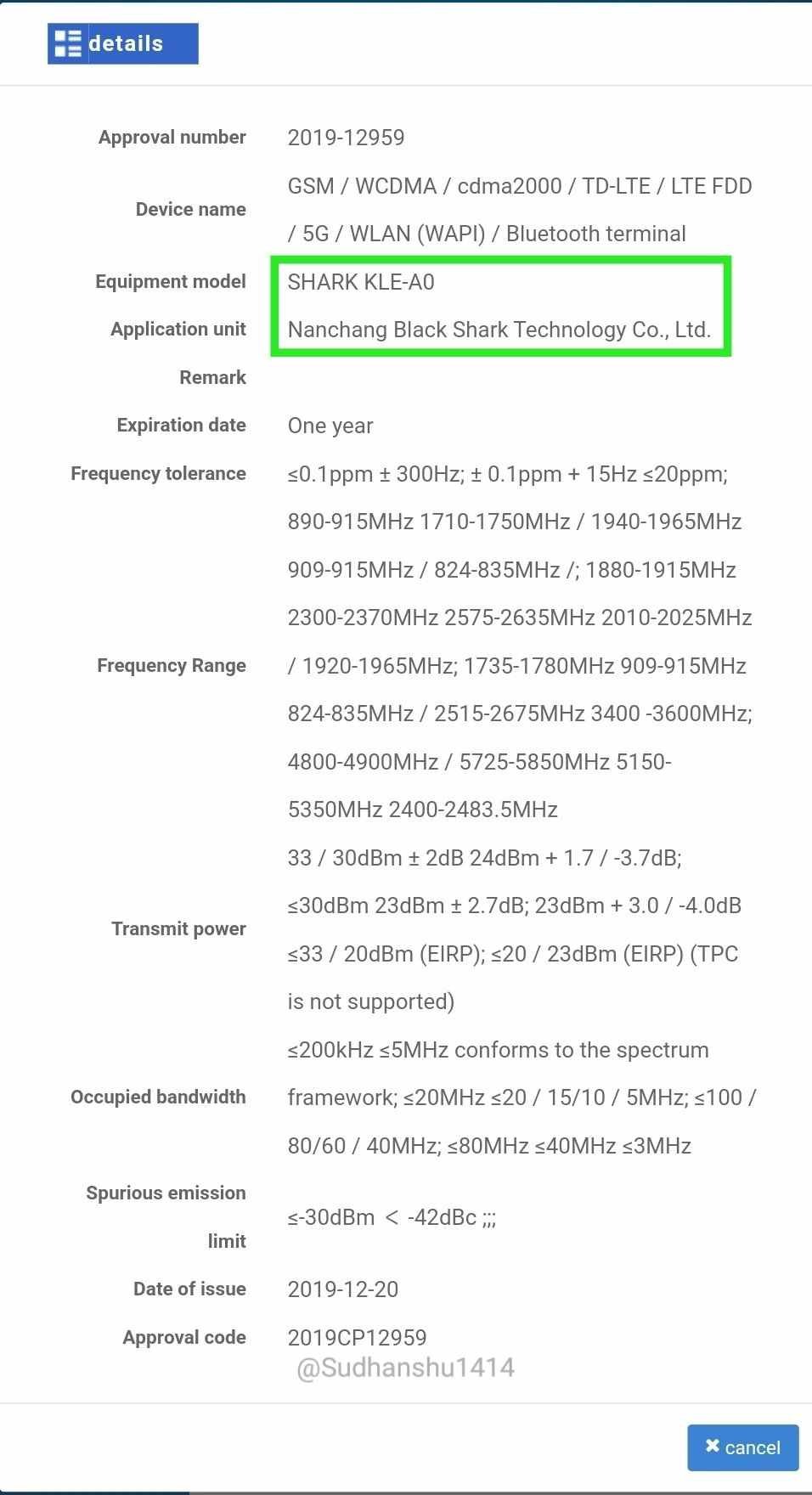 Xiaomi Black Shark 3 Expectations-
Rumors have been hitting the web that the Xiaomi sub-brand Black Shark will most probably collaborate with Tencent, for its upcoming lunch of Black Shark 3. Tencent held the award for the 'best game' till last year for PUBG, and Call of Duty Mobile at the present.
This has massively boosted people's expectation about the device as well as the games that would support. Also, fans expect a device that will be launched without equipment lie console attachments unlike the launches like ROG, so that they can buy the Black Shark 3 for an affordable price.
Xiaomi Black Shark 3 Price-
Xiaomi Black Shark 3 is expected to cost around Rs. 46,000 (global variant) and will likely rock black as the main color in all the variants.
Xiaomi Black Shark 3 Release Date-
The Chinese variant of the Black Shark 3 will likely roll-out in the month of March 2020 and the global variant will be announced and launched in the mid/ second half of the year 2020.
Note: We will update the article when we receive any news about the Xiaomi Black Shark 3, so stay tuned. Also, share this article with all those who are waiting for this device.
---
[Update- February 26, 2020]
Black Shark 3 Design Reveal
As promised to update soon, we've brought to you the hottest of news that is currently been hitting the web. Recently the official twitter of Xiaomi China posted two promo videos of the Black Shark 3, revealing a lot of details about the front and back end structures of the device.
The first video is a comparison of Black Shark 3 with other high-end premium and gaming devices. The front display has now confirmed that the device will rock a 90Hz display with a 270Hz touch sampling rate. The video also promises a single-finger touch response delay of 24ms while multi-finger touch registers in 28ms. To be straight, the device would be super-smooth without any lag in both inputs as well as output.
The second promo has got a pun to it but reveals a very important detail, which is the entire appearance itself. Check the image given below which is a snap from the promo video of the Black Shark 3. We get to see a stylish back panel with an LED-illuminated logo on the glass back and most probably, an aluminum frame.
Thanks for reading! Stay tuned for more updates and related articles. Also, share this article with all those who are waiting for Xiaomi Black Shark 3.