If you are up against a Pokemon Trainer or gym leader whose specialty is Water or Flying Type Pokemon, then you might want to prepare your Pokemon lineup consisting of the best Electric-type Pokemon against it. Well, lining up your side with some best Electric Type Pokemon will help you get an upper hand in such fights in Pokemon Scarlet and Violet. In this article, we have included the top 5 Electric Type Pokemon that you must keep your eyes on. Having these Pokemon in your army will definitely increase your chances of winning battles. Continue reading to know everything about this topic.
Top 5 Electric Type Pokemon in Pokemon Scarlet & Violet
Here is the list of the Top 5 & Best Electric Type Pokemon in the Pokemon Scarlet and Violet game, based on their statistics: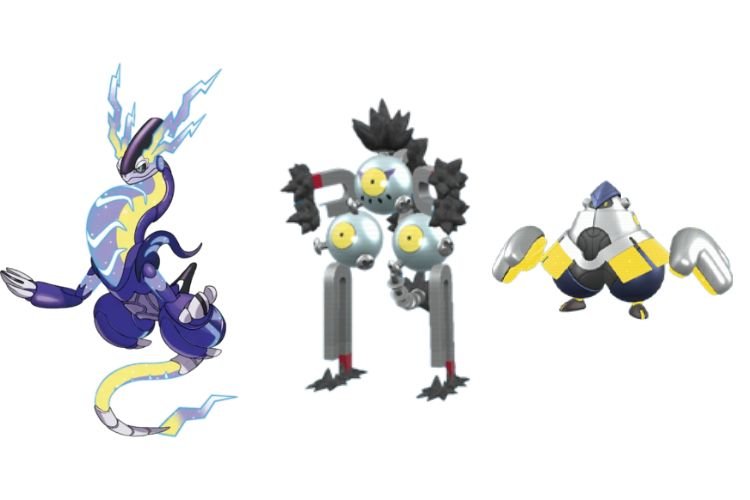 1) Miraidon (Electric/Dragon Type)
Miraidon is ranked as the #1 in this list. It is the new legendary Pokemon introduced through the Pokemon Scarlet and Violet game and is quite helpful in many ways. Apart from being deadly in battles, Miraidon also helps the player glide, swim, and traverse the terrains of the Paldean Region. Its stats are as follows:
HP-100
Attack-85
Defense-100
Special Attack-135
Special Defense-115
Speed-135
2) Sandy Shocks (Scarlet) (Electric/Ground-type)
Sandy Shocks is an amazing pokemon but is exclusive to Pokemon Scarlet. This Pokemon does not account for any evolutions in the game and its Special Attack and speed can be fruitful in battles. Here are its overall stats:
HP-85
Attack-81
Defense-97
Special Attack-121
Special Defense-85
Speed-101
3) Iron Hands (Violet) (Fighting/Electric-type)
Iron Hands Pokemon can be found only in the Pokemon Violet game. This Pokemon's HP, normal attack, and normal defense can prove to be great assets when taken into raids. On the other hand, you have to adjust with its Special Attack, Special Defense, and Speed stats.
HP-154
Attack-140
Defense-108
Special Attack-50
Special Defense-68
Speed-50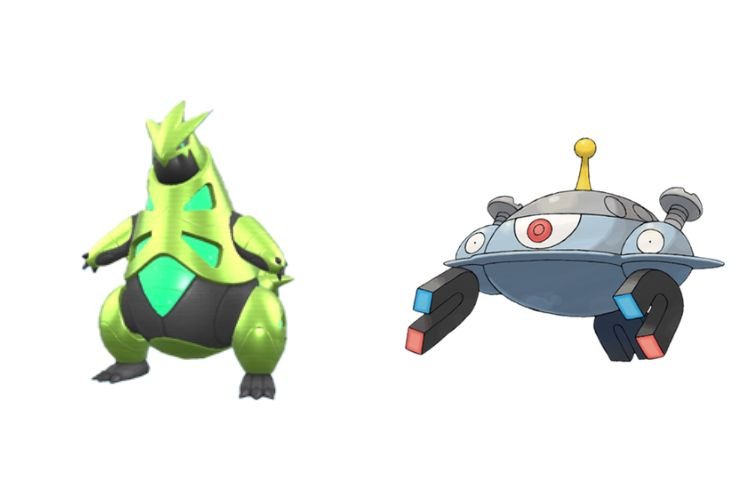 4) Iron Thorns (Violet) (Rock/Electric-type)
Just like Iron Hands, this Pokemon is also exclusive to the Pokemon Violet game. With "Quark Drive" as its primary ability, this Pokemon is among the ones which have good attack stats in the Electric Type list.
HP-100
Attack-134
Defense-110
Special Attack-70
Special Defense-84
Speed-72
5) Magnezone (Electric/Steel-type)
Last but not the least, Magnezone is the result of Magneton's evolution. It is another great Electric-type Pokemon having abilities like Magnet Pull, Sturdy, and Analytic (Hidden). If you want a balanced Electric-type candidate in your lineup, Magnezone is the one to go for.
HP-70
Attack-70
Defense-115
Special Attack-130
Special Defense-90
Speed-60
So, these all were the top 5 Electric Type Pokemon in the Pokemon Scarlet and Violet game. If you found this article helpful, share it with your friends.
Related: Pokemon Scarlet & Violet (SV): How to Get & Catch Paradox Salamence (Roaring Moon)