Huawei is a Chinese tech company that started off with telecommunications. The brand is known for its premium looking features and its attractive glass back design. Huawei was initially a renowned brand for premium, flagship devices but the company gradually shifted its focus towards mid-range devices, gradually reigning as a rival in the mid-range budget smartphone market.
Huawei has been receiving some backlash for a while. The Huawei P20 Lite, a device famous for its low-range price but appealing looks was released in the year 2018 with a pre-installed Android 8 OS. Now for all those who don't know, Android smartphones are powered in such a way that they receive Android updates for two years, or to be precise- two Android versions. Keeping this in mind, we would like to share that Huawei P20 Lite will not receive the Android 10 update and you probably can relate to why the brand has been receiving hate.
Huawei P20 Lite users sign a petition in demand for EMUI (Android 10) update-
As per Android devices promise, 2020 is the second year for the P20 Lite and the device has only received one software update as of now. But the brand has chosen not to consider the device for pushing the EMUI 10 over Android 10 for this model.
What makes things worse is the fact that according to the roadmap of Huawei, you can clearly see that under the month of March, we spot "Huawei P20 series", interpreting that the P20 Lite would be one of them. But unfortunately, that doesn't seem to be happening. This is clearly one of those reasons that have broken the hopes and pushed the users toward signing the petition.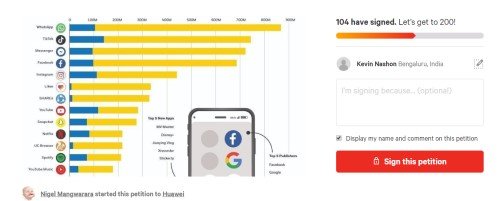 The petition is live, and the audience seems to be all set to achieve 200 Huawei P20 Lite users to sign the petition. Also, the comment section is loaded with people throwing out their opinions and demands about the next Android and EMUI version. But all that we can hope if for the officials to understand the intensity in people's demands, at least for what one could expect from Android device users.
Rest assured, we will update the article when we receive any news about OS update for Huawei P20 Lite, so stay tuned. Also, share this article with all those who are waiting for the update.
---
SEE ALSO: