Owned by Chinese OEM Xiaomi, Redmi is a sub-brand that devotes solely to manufacture some of the stunning mid-rangers and budget centric devices out there. After continuously conquering the tag of the No.1 Smartphone brand in India, Redmi is still thriving to come up with awesome innovations and amazing devices with every passing day. Well, that's Redmi for you. These days Redmi is busy manufacturing some awesome mid-range flagships which they have proved to deliver in the past as well. The Redmi Note series is probably the most loved series of devices by users. Now, Redmi is all set to launch its latest mid-range killer: the Redmi Note 9 Pro.
Redmi Note 9 Pro real-life images leaked:
Well, it's just been a day or two when the whole internet was overloaded with the leaks of the Redmi Note 9 Pro renders. Yet here we are today watching a real life-image alleged to be of the Note 9 Pro popping up and surfacing on the whole internet. The leaked picture suggests that the Note 9 Pro resembles pretty much to the renders which leaked a few days back. Have a look at the picture: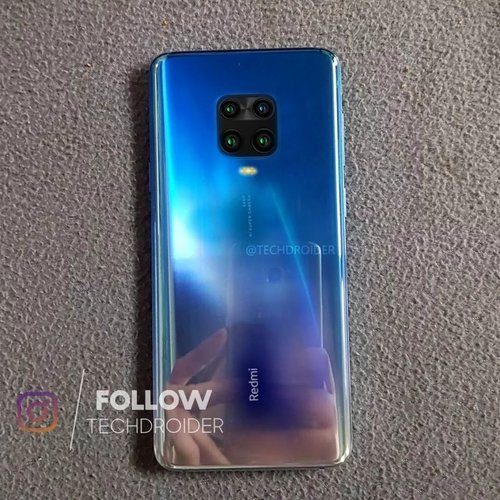 As seen in this picture the Note 9 Pro has a very beautiful glass back and has a premium glossy finish. The back has dual-tone hue with parts of blue and a silver-like color. We also see a box-shaped quad-camera setup with the sensors aligned symmetrically. The device feels premium and astonishingly beautiful. This picture of the Redmi Note 9 Pro looks like what was supposed to be seen according to the previously leaked renders. Have a look at the render which was leaked a few days back:
The only difference we found was the color. The render shows off a gradient silver colour while the real-life image shows us a dual-tone colour which is more of bluish in nature. However, we didn't see any real-life image of the front of the device but we assume that it would be pretty much of what is seen in this render. However, none of this is official and we might see a change in the real product. So, let's wait till the launch to see how pretty the device is and what further modifications are brought to the device.
Stay tuned for more updates about the Redmi Note 9 Pro. Also, share this article with all those Redmi lovers who have been waiting for this amazing device.
---
SEE ALSO: