With update 1.3 hitting Genshin Impact on 3rd Feb 2021, more leaks regarding update 1.4 have been revealed. If you want to know more about the contents of update 1.3, head here. However, the leaks for update 1.4 include several weapons, a new mini-game, etc. To know more, keep on reading.
Update 1.4- Genshin Impact
Update 1.4 leaks were already out weeks before the release of update 1.3. Those leaks gave us information about the introduction of a new character Rosaria and the re-run banner for Venti. If you wish to know more, visit here.
Although, now more leaks have been revealed for update 1.4 which were posted by @nep_impact on Twitter.
Leaks 1.4: Windblume Festival (Pop the balloons with your bows within the time limit. You also play in co-op.)

#GenshinImpact #原神 pic.twitter.com/g64R2XlNha

— NEP NEP 💫 (@nep_impact) February 2, 2021
A new Windblume Festival will be coming in update 1.4. This festival will be available on Update 1.4 which will consist of a mini-game that requires the players to shoot the correct balloons with their normal or charged attacks within the time limit. It has been stated by @Genshin_Intel that the mini-game will be held at four different locations of Mondstadt. Players can even compete with others in co-op mode.
Windblume Festival minigame 1/3 – Bullseye Balloons: Pop the correct balloons with normal attacks or charged attacks (including aimed shots) within the time limit. Game will be held at four locations in Mondstadt. You can compete with others in co-op. #Windblume pic.twitter.com/Es2E6tYAku

— Genshin Intel (@Genshin_Intel) February 2, 2021
A fun and interesting game is coming to Genshin Impact which is surely going to be played by many.
New Weapons have also been leaked by @nep_impact on Twitter.
https://twitter.com/nep_impact/status/1356719886039453703
Two 5-Star weapons have been leaked for update 1.4. From the looks of it, we can say that it looks pretty cool.
The first one is called Protoembryo and the second one is Natural Desire. You can find the translated version of the actual photos below.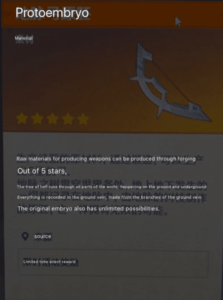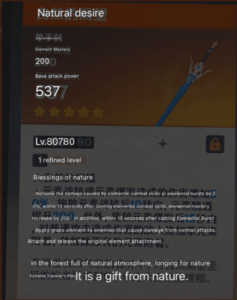 Also, it has been mentioned that these are still subjected to change.
Well, update 1.4 is looking great with the incoming new weapons and the mini-game mode.
Genshin Impact- Update 1.4 Release Date
As of now, there is no official release date for update 1.4. However, if we follow miHoYo's schedule, they promised that they will be releasing new updates every 6 six weeks. Since, update 1.3 was released recently, expect update 1.4 to be released next month.
Genshin Impact- Update 1.5 Leaks
We also have information about some leaks for update 1.5 of Genshin Impact. Although it is still early to say anything as none of those leaks are confirmed, but we think it is still valuable information for many players. For more details on Update 1.5, visit here.