Looks like Huawei is the center of attention this month as exciting news from this massive Chinese tech brand just has no end. As we recently wrote about EMUI 11 update for Huawei Mate 30 Pro users in China, our European folks out there too, have got a lot to be excited about. As you read in the title, EMUI 11 beta testing is all set to begin for the European Huawei users. Here are all the details and the list of devices that will first receive the beta update.
From September 10 – 12, the Huawei Developer Conference 2020 was held, revealing dozens of extremely important details and plans of the brand and its devices. Mainly, we got the official list of devices that will be receiving the first EMUI 11 build, along with the final specs of the brand's UI.
Huawei didn't stop there. After the conference, Huawei started rolling out EMUI 11 test builds for the Huawei P40 series, Huawei Mate30 series users, and more in China. Soon after that, on the 20th of September 2020, Huawei started releasing EMUI 11 test builds for the same devices, but users in Russia this time.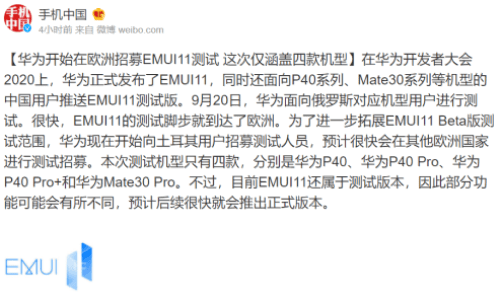 Earlier this day, an amazing piece of news was shared on the Chinese social media platform- Weibo. After China and Russia, Huawei is all set to work on releasing EMUI 11 beta testing builds for the European countries.
Huawei will soon begin to recruit beta testers and currently, there are four names in the list of devices that will be included in the program- Huawei P40, Huawei P40 Pro, Huawei P40 Pro+, and Huawei Mate30 Pro.
We post related content and exciting updates every day, so stay tuned! Also, share this article with all those who are waiting for EMUI 11 update!