EMUI is the custom OS used by Huawei mobiles. Primarily, this OS was based on Android OS but due to the ban imposed on Huawei, EMUI is the only UI interface, and that explains how important EMUI updates are.
Huawei has officially announced the features of EMUI 11, the upcoming EMUI version, and the list of eligible devices that will receive the first public beta. So here are all the details you need to know about the upcoming EMUI 11.
EMUI 11 Features-
New Always-On Display
The always-on display (AOD) in EMUI-based devices have always been constantly updated since the beginning. With EMUI 11, users will receive many more default styles and the most exciting feature- DIY. With the DIY feature, you can pick and image or GIF and create your AOD styles. Cool, isn't it?
---
Long-Take Animations
If you are someone who researches about movies and shooting, this term isn't new to you. "Long-take" is a concept of filmmaking where a video/ film is shot in such a way that it appears as if it is all captured in one take.
Huawei's Human-Factors Engineering Research Lab has designed EMUI 11 based on the concept of long-take from where the name is derived- Long-take animations. So, after updating your device, the animations and transitions will not disturb or stress the eyes in any way, creating a smoother interface.
---
Redesigned Gallery App
EMUI 11 will bring support for "pinch" to switch between pictures/videos between day and month view in the "Photos" tab. Also, the "Albums" tab is now laid out in a 4:3 aspect ratio. New settings will be added to sort photos.
---
Live Icons
The concept of live icons is very simple. Apps with live icons animate as you exit the app. EMUI 11 will apply this feature not just on certain apps, but notifications panel and inside certain system applications such as Phone, Music, etc.
---
Smart Multi-Window
With the smart multi-window, users will be able to resize the windows of the floating apps. After resizing, you can switch between these apps, totally customized based on comfort and interest.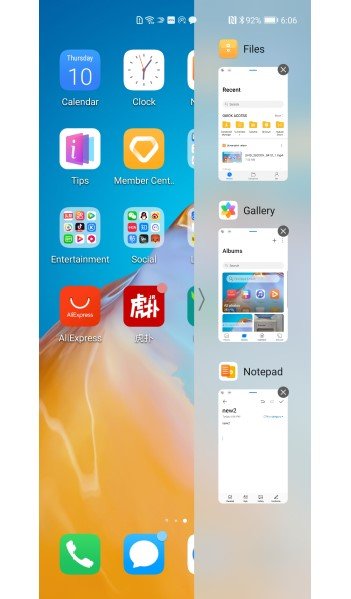 ---
Multi-Screen Collaboration 3.0
With this feature, users will be able to open up to 3 apps simultaneously connected to a computer. Above all, users can now make changes and edit documents on a computer/ laptop using an EMUI device, another amazing feature.
---
Privacy and Security
The new Safety Cast feature restrains sensitive content to cast on the user's output display. Other security improvements draw similarities with restrictions and functions imposed by skins of other brands- Camera, location, security, and much more when it comes to app permissions.
---
EMUI 11 Eligible Devices-
Currently, the available and officially announced lists only contain the names of devices which will be receiving the first beta update of EMUI 11. Check the list below:
Huawei P40
Huawei P40 Pro
Huawei P40 Pro+
Huawei Mate 30
Huawei Mate 30 5G
Huawei Mate 30 Pro
Huawei Mate 30 Pro 5G
Porsche Design Huawei Mate 30 RS
Huawei Matepad Pro
Huawei Matepad Pro 5G
We post related content and exciting updates every day, so stay tuned! Also, share this article with all the Huawei users who are waiting for EMUI 11!