Almost every Choo Choo Charles player will agree that the game will look fantastic in VR. So naturally, people are wondering if the game has VR support or not. Virtual Reality setups are getting popular very quickly. A lot of new developers are also taking interest in this field. Giants like Meta are also investing heavily in the VR market. This means that more games can finally become compatible with this technology. So, if you are looking for information about Choo Choo Charles' VR support, then you have come to the right place.
Choo Choo Charles is a great horror video game. If you ever wanted to meet an evil spider train, then you are in luck. Charles is the main antagonist of the game and is a giant evil spider train nightmare. But, you are not defenseless either. You ride your own train and can upgrade it to fight off the monsters. While Choo Choo Charles has nothing too fancy, it is still a unique game. That's why a lot of players want to experience the game in a VR environment. But, most players are unaware if the game has this feature or not. Well, we are going to discuss this below.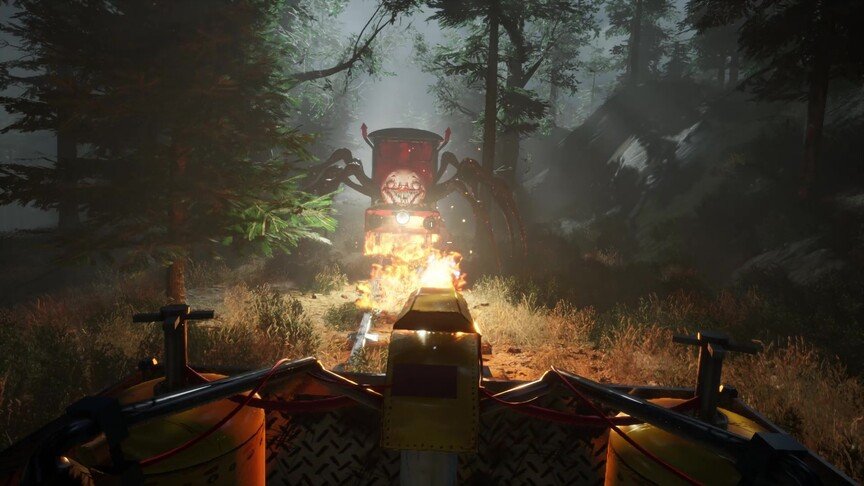 Choo Choo Charles VR Mode Support: Is it available?
Unfortunately, Choo Choo Charles does not have VR Mode support at the moment. The developers have not integrated this feature into the game. Choo Choo Charles is only available for Windows PC users right now. This means that it does not have a lot of features that players might want. If you are wondering what the 'partial controller support' means in the game, then have a look at this article. But, this does not mean that the developers are not willing to listen to these types of requests. At the moment, the game is still brand new and the devs are polishing the existing features.
So, it is quite possible that Choo Choo Charles might get a VR Mode in the future. But, take this information with a grain of salt because the devs have not made any statement regarding this. As we mentioned before, they are still polishing the existing features, and hence even if they want to add a VR mode, it will take considerable time to implement it. We will make sure to update our article if the devs announce anything related to this topic. So, make sure to stay tuned to Digi Statement so that you don't miss any important news. Till then, happy gaming!