The recent streak of smartphone updates has been very advanced. This is partly because the smartphones that have been getting such updates are quite recent and quite advanced. But, partly because what's once a thing of past, doesn't get too much attention. In times when Android 11 is the talk of the town, it is of little fascination to be informed on this particular update. Xiaomi has a reputation of following up on their devices with quick updates and they haven't missed out on it, yet again. Many of you might have forgotten about the Xiaomi Mi A1 (known as Mi 5X in China), but a few still own the phone. Xiaomi is not letting them feel alienated amidst the buzz of MIUI 12 updates.
Xiaomi Mi A1 Global ROM update; V10.0.24.0.PDHMIXM
Security updates are a very necessary component of system updates that go unnoticed sometimes. If you trust us, then please don't be among those that turn a blind eye to it. Xiaomi delivered the Security update edition of August on the Mi A1. The A1 marked Xiaomi's venture into the stock Android skin experience running Android One out of the box. Just a reminder though, the public beta is yet to be released. This version will be available OTA and after the testing of Beta Stable ROM is complete, aired to the public. Xiaomi was a little ambivalent in the way they talked of the update. So we are not sure whether the changelog this update brings would matter so much or not. We do have minimal information on the changelog. The optimization of system performance and improved stability of the system is a definite promise. Find the link below to download the Preview Beta.
Three years back though the Xiaomi A1 would have made a decent package, with 64 GB internal storage and a common 4 GB RAM trend. The Mi A1 would today be referred to as, the machine that does the "bare minimum".  WIth dual-camera setup, a pair of 12 MP telephoto and wide-lens, fueled by a Snapdragon 625 chipset is hardly a thing to be noticed today. A relatively new device, Xiaomi Mi A3 had also globally received the August security patch update only recently. Today devices in the EU would be receiving that same update. Xiaomi has a thing for optimists or so I would like to think.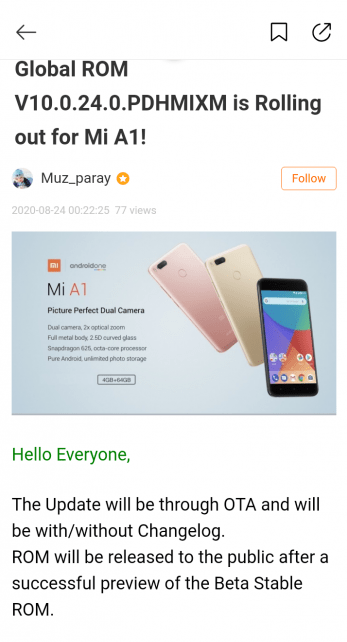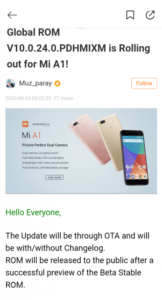 Global ROM update V10.0.24.0.PDHMXIM for Xiaomi Mi A1