The arrival of Android 11 promises to be a benchmark. Most smartphone brands have seen this opportunity to update their OS. OnePlus, Samsung and of course Xiaomi have all started testing the developer's version of their new Android 11 based OS. Today's news is from Xiaomi's pavilion. The MIUI 12 is inching closer towards its stable public beta launch and this new update is giving us a taste of what awaits us.
Features of the new 20.8.13 update
The developer's beta released early on was exclusively for Mi 10 series. Xiaomi has been generous enough to extend the new MIUI 12 beta update to almost 25+ devices. As noted, the version number of this MIUI 12 update is 20.8.13. As is recommended with most cross-Android upgrades, you should back-up your data as per convenience. The new update weighs approx 3.5 GBs and brings in a few never witnessed before features.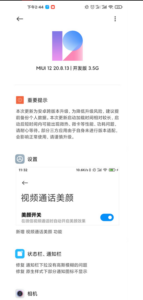 There is a new Video-call beauty function that is introduced with version 20.8.13. Third-party apps usually enable facial enhancements with pictures, but Xiaomi's new update is expected to allow this in real-time. For all you "night-persons" out there, Xiaomi has also brought a special night scene support movie mode. As such, there isn't a great clarity on how the experience of watching movies would be bettered, but there will be notable arrangements for this. Along with this, the changelog also mentions a fixed status bar and notification bar.
If you are about to jump and get that update installed, beware. Xiaomi has clearly mentioned that after the update is done, you might encounter issues. Most common of these would be performance and power consumption issues such as micro-heating.  Our source also informs that the MIUI 12 development version rolled out earlier has performed as per expectations. The second batch for other adapted Xiaomi devices will be rolled out by mid-September. In addition to the Mi 10 series, Mi 9 and 8 series, Redmi Note 8 and Note 7 Pro, Poco F2 Pro and X2, Mi Mix 3 and Max 3 have all received the update.