Adopt Me features a wide variety of pets ranging from cat/dogs to Shadow Dragons. However, these pets can be obtained through trading but the primary way to obtain rare and legendary pets is to hatch them from eggs. Each egg in Adopt Me feature unique pets and each egg is unique in its own way. But, ever wondered which egg is the rarest amongst all? Maybe the Safari Egg or the Easter Egg? Well, the answer is-wait, let's not reveal everything so early. Continue reading to know more.
Adopt Me-2021
Currently live with the Farm aka Spring Update, Adopt Me got some new map changes along with the addition of a new pet- Ladybug. The upcoming weeks are going to be loaded with content as new updates are expected to arrive soon.
Adopt Me- Rarest Egg in 2021
However, let us jump right into our discussion of the rarest egg in Adopt Me. Well, the answer is- Diamond Egg. Yes, the Diamond Egg is the rarest egg in Adopt Me in 2021. This Diamond egg can be traded but don't think you will be getting off easy with it. Traders demand insane value for this Diamond Egg and why won't they? It requires a lot of time and effort to obtain this egg. And as we all know time has value, so does this egg. The egg cost 660 stars to obtain but there is a catch. You will have to obtain the Golden egg first(another 660 stars), only then you will be eligible to obtain the Diamond egg which makes it a total of 1320 stars for obtaining the Diamond Egg. Now you must be thinking, how and where to get these stars, right? Well, we have a detailed guide for you to help you obtain this rare Diamond Egg. Visit here to know more.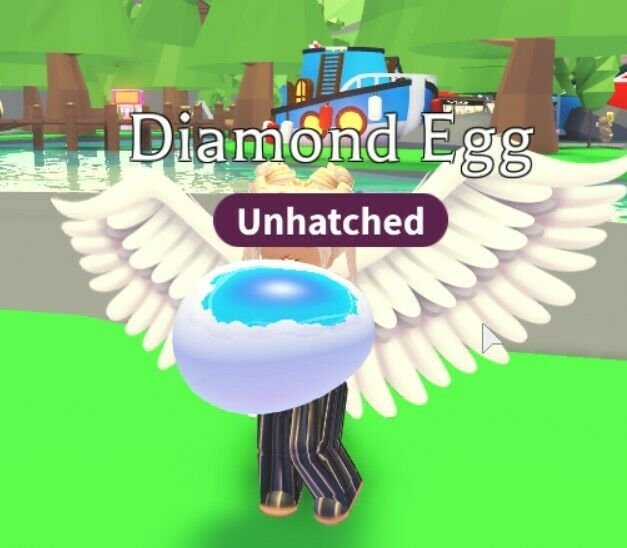 The Diamond Egg has a 100% chance of dropping the following blue-textured legendary pets-
Diamond Unicorn
Diamond Dragon
Diamond Griffin.
These three pets are one of the rarest legendary pets in-game according to our Legendary Pet list of 2021. Now you know which egg is the rarest in Adopt Me. So, either grind for it or trade it using your beloved legendary pets. The choice is yours.