Adopt Me is one of the most popular games on Roblox peaking over 600K concurrent players in June 2020 according to Wikipedia. It is an MMO RPG game that has been recognized worldwide. Players spend hours and hours grinding in the game and trading pets. But, several players out there are still wondering what the evil unicorn is worth in 2021 and how to even get it as it a rare item. We have got the all information you need. Here's everything you need to know.
Evil Unicorn- Adopt Me 2021
Evil Unicorn is a black-red recolor of the Unicorn pet along with the Golden and Diamond ones. It was introduced in the game in the Halloween event part 2 of 2019, according to Adopt Me Fandom. Back then it was sold for 108,000 candy currency in the Candy Trading Shop and was labeled as a legendary pet.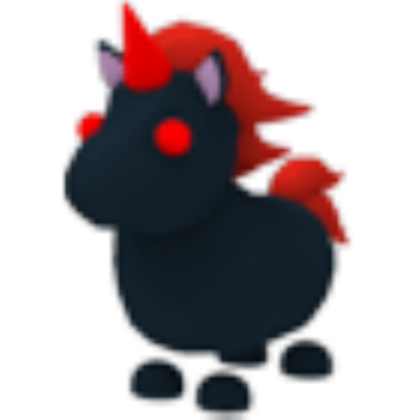 Unfortunately, the legendary pet Evil Unicorn is not available to purchase right now and can only be obtained through trading. It's worth less than the Bat Dragon pet making it the second most expensive pet in Adopt Me.
However, most pets can be turned into Neon and Mega Neon versions and those will probably worth more.
Evil Unicorn- How to get it ?
There is no way you can get the Evil Unicorn in 2021 in-game. Although it can be obtained through trading. Also, there are several sellers on eBay who are currently selling the rare Evil Unicorn for almost $20 each.
The Fly Ride FR Evil Unicorn is currently sold for $15-18 and the Neon version(NFR) of the Evil Unicorn is sold for $45.
If you wish to purchase any of this, you can head over here.
Note- We don't promote any sellers and are not in any way connected to any of them.
Adopt Me- New Lunar Update News
Adopt Me is getting a new Lunar Update in the foreseeable future. Expect loads of new content pouring into the game along with a new Guardian Lion pet and a new Chinese decorated house in the new Lunar Update. The official release dates are not yet revealed but expect it to be coming next month.