Many applications are coming up with the concept of tracking caller ID and providing better caller experience with security. TrueCaller is one of the famous apps for mobiles. This kind of security-based app always works on keeping users from spam mainly.
T-Mobile is a telecommunications company familiar to several mobile users. T-Mobile soon hit many users in the form of an application. The app goes by the same name, T-Mobile. The application is used to connect with the sim card or just be used as a caller app. You can seek for customer care that works like applications like MyJio and MyAirtel.
T-Mobile officially announced a major update. The announcement changes a ton of ways the app has been working. The most important feature to note is them introducing the Scam Shield.
T-Mobile Changelog: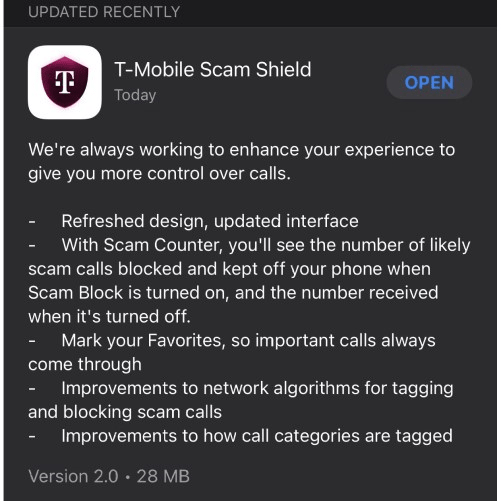 Scam Shield is an automatic system that recognizes the scam calls. The app also automatically blocks spam calls. If you do not want to give the application that access, there is another way of the Scam Shield works. The app will inform you about the probability of the call being a scam and aware of you beforehand. Isn't that cool? Also, there are a couple of other changes too as you can see in the image above.
You need to note that this feature has always been in several other apps. But in the T-Mobile app, users had to pay over $4 to get access to the Caller ID feature that was existent before. But with the latest version of the app, the caller ID is replaced with the Scam Shield feature. Therefore, users don't have to pay any more to be aware of scam calls and security related issues. So, finally, this important feature is officially made available for free, for both iOS and Android users.
But a major piece of information is still not clarified. A lot of users were paying for premium features of the T-Mobile app. But most of them including the Scam Shield feature is now free. So, users are still worried if the app developers will automatically cut the cost/ subscription for the Scam Shield which is now made free.
We hope the developers come out with a better system of the app subscription/ premium mode. Overall, the latest T-Mobile application is bringing some cool and important features for the users.
Rest assured, we post related content and updates every day, so stay tuned! Also, share this article with all those who might find this information helpful!