After a reasonably long wait and several different predictions and leaks later, Super Smash Ultimate Update 8.0.0 is finally here. Nintendo announced the launch today on their Versus twitter handle. The update went live on 7am IST, 30th July.
Eager fans have known for long that new DLC fighters were coming to the game. A couple of weeks ago, we predicted the possible additions to the fighter roster. We are delighted that some of our predictions stand corrected as Min Min is coming to Super Smash Bros. Ultimate!
Nintendo has decided to add Min Min as the 6th DLC fighters to the game. For those of you who are new to the series, Min Min is a character from Nintendo's quirky fighting game called ARMS. The game was released on the Switch and recently celebrated its 3 year launch anniversary.
Moreover alongside her, players will spot new Mii Fighter costumes which include the Vault Boy as well. Additionally, you can purchase the Super Smash Bros. Ultimate Fighter Pass volume 2 to obtain Min Min, the new Spring Stadium and no less than 18 different music tracks.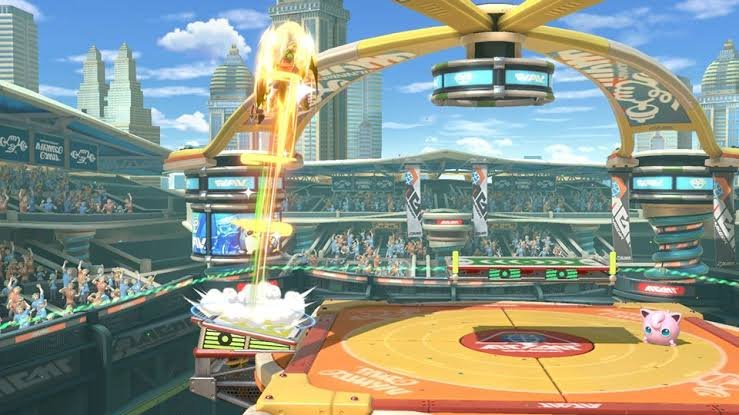 As with every update, Nintendo has pushed a new set of balancing fixes in version 8.0.0 as well. Thus, after the update the game is expected to run smoother providing an enhanced gameplay experience. Following are the patch notes of Update 8.0.0 :
Offline
You can now begin a spirit battle rematch at any time via Spirits → Collection → Inventory → Spirit List → Fight. The score will also be recorded.
The following spirits will appear in the Shop on the Vault menu:
Master Mummy
Mechanica
Byte & Barq
Kid Cobra
Helix
Max Brass
General
The following downloadable content will be usable after purchase:
Min Min Challenger Pack
Ninjara Wig + Outfit
Callie Wig + Outfit
Marie Wig + Outfit
Vault Boy Mask + Vault 111 Jumpsuit
Heihachi Wig + Outfit
You cannot make videos of replays that contain DLC you have not purchased (fighters, stages, music, Mii Fighter costumes, etc.).
Several issues have been fixed to improve gameplay experience. Game balance adjustments have been made.
 8.0.0 Fighter Adjustments
Nintendo has also made several adjustment to all the fighters present in game. Click here to read the full patch notes.
Thus that covers everything Version 8.0.0 of Super Smash Bros. Ultimate has to offer. You can click here to learn how to update your game to the latest version.