Stardew Valley is a very deep open-ended farming RPG sim game released for the Windows PC in 2016. The game became a blockbuster indie hit and soon made its way to all the other platforms. Stardew Valley features various RPG elements including the leveling up system, crafting system, and also, energy level system. The player's character is weak when the energy level is low. Consequently, the issue leads to less efficiency in the game.
There are ways to fix the issue of low energy levels and maintain a higher efficiency. Also, there is an item called Stardrop in Stardew Valley, this item is a mystical fruit for raising the maximum energy level. In total, the game has 7 Stardrop available for the players to find and also collect.
All the Stardrop locations in Stardew Valley are  –
1. Level 100 in the Mines.
You have to make your way to level 100 in the mines. On level 100 there will be a chest. Inside the chest is a Stardrop.
2. In the Sewers, from Korbus.
In order to reach the sewers, you have to donate 60 artifacts to the Museum to earn the item Rusty Key. Once you have the key you can access the sewers which are home to a vendor called Krobus, who sells one Stardrop Fruit for 20,000g.
3. In the Secret Woods, from Cannoli
You have to purchase a Rare Seed from the Travelling Cart. Plant the seed, watch it grow then take the Sweet Gem Berry to the statue. Give the Sweet Gem Berry to Cannoli in the Secret Woods to get a Stardrop Fruit.
4. In the Stardew Valley Fall Fair
Every 16th day of the month there is a fair held in the town square of Pelican Town. During the fair, players have the chance to participate in different events to earn tokens. To purchase the Stardrop you need to collect 2,000 tokens. The easiest methods to earn the required tokens are fishing and winning the showcase.
5. By becoming a Master Angler
In order to earn this Stardrop Fruit, you need to catch every type of fish in Stardew Valley. Once you've caught all the fish, Willy will send you a letter with a Stardrop Fruit inside.
6. In the Museum, from Gunther
Stardrop Fruit is earned by donating all 95 items to the museum. After you've donated all 95 items, Gunther will give you a Stardrop Fruit as your reward.
7. From your spouse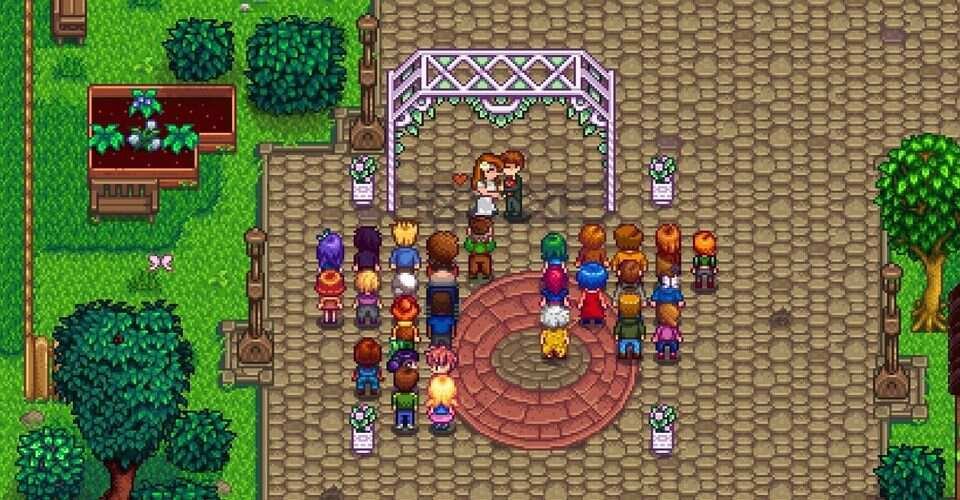 You have to romance and marry one of the eligible marriage candidates in Stardew Valley. Once you've tied the knot, you will have to continue giving your loved ones gifts until you raise their love to 12/13 hearts. You will receive a gift of Stardrop from your spouse.
Read more articles on Stardew Valley here