In the Sons of the Forest game, you can encounter Sharks that can suck your life out and throw you in the water. There can be multiple instances where you can encounter Sharks and therefore, it becomes crucial to learn how to kill them in this game. In this article, we have included the important tips that you would want to know to learn how to kill Sharks easily in Sons of the Forest. So, let's get right into it.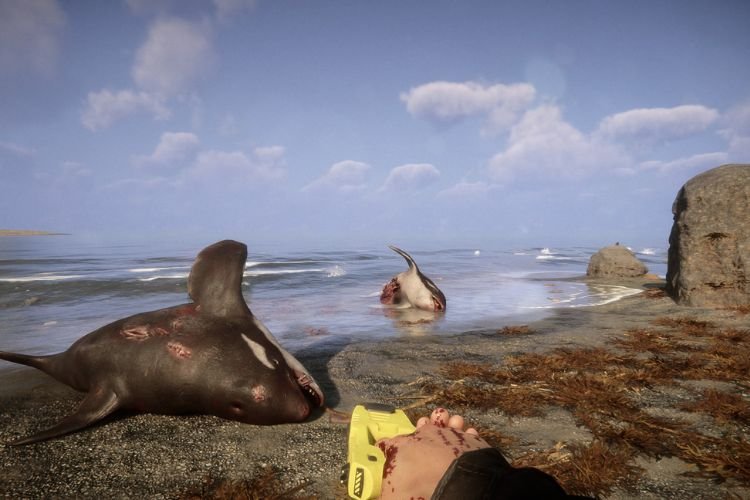 How to Kill Sharks in Sons of The Forest?
You may encounter sharks in this game while swimming in the ocean or diving underwater. These sharks can be dangerous and cause damage to your health. Despite some tasks, there is no compulsion to swim in the ocean and invite a shark to have its meal. The first time when you encounter a Shark is when you head toward an abandoned boat to collect the handgun. This gun is the ultimate weapon to kill sharks easily, but for that, you have to reach the boat safely. To reach the boat, you have to be careful that the shark does not attack you. When you reach this boat, you can collect the gun, equip it and then aim for the shark's head to kill it.
However, ammunition for guns is rare to find in this game. Therefore, you would like to save as many bullets as you can. Having said that, it is also possible to kill sharks by using Spears or Arrows. These are effective weapons against them, provided your aim is on point. You can use a spear to stab the shark or an arrow to shoot it from a distance. These weapons deal high damage to the shark and can take it down quickly. It is recommended to aim for its head.
So, when you have an ample amount of bullets in your inventory, you can choose to use the handgun to kill sharks. On the contrary, using spears and arrows is also an efficient and impactful way to kill them. This brings us to the end of this guide. If you found it helpful, share it with your friends.
Related: Sons of the Forest: How to kill Deer?