Samsung cannot be referred to just as a smartphone company or a television company. This South-Korean company is known for manufacturing almost anything and everything. Phones? Got them! Washing machines? Got them! Oven? Got them too! Samsung has made significant changes in every sub-field in the tech world. But undeniably, Samsung smartphones are not only the biggest products from the brand but one of the bests in the world.
A lot of Samsung devices have lately been appearing in the SIG Bluetooth certification. Galaxy A02 showed up on the SIG certification page last week, followed by the Galaxy M02. Here we are with the Bluetooth certification details of yet another Samsung product.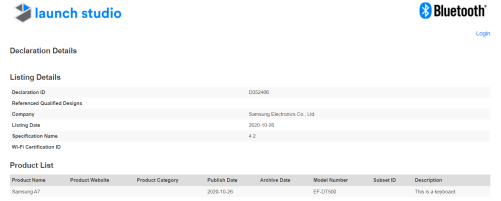 Samsung A7 has shown up on the SIG Bluetooth page, certified. It is described as a keyboard from Samsung with the listed date being October 25, 2020. The certification was out on the 26th with model device name Samsung A7 and model number EF-DT500.
The hardware version of this device is v1.2 and the software version is lifted to be v04. The core specification is known to be 4.2.
The page also consists of a table of supported layers of the Samsung A7. You can take a look at them below-
Profile / Protocol
Attribute Protocol
Battery Service
Device Information Service
Generic Access Profile
Generic Attribute Profile
HID over GATT Profile
HID Service
Interoperability Test Specification
Logical Link Control and Adaption Protocol
Low Energy Link Layer
Low Energy RF PHY
Security Manager Protocol
Currently, these are the only details available about the Samsung Keyboard- Samsung A7.
We post related content and exciting updates every day, so stay tuned! Also, share this article with all those who might find this news helpful!