AMD's RDNA2 launch is here (Today!) and the company will hope it does justice to the buzz created by NAVI GPU Family. The new generation of GPUs will fall under the Radeon RX 6000 series. They should offer significant thrust to AMD in catching up to NVIDIA. As far as catching up is concerned, earlier this month AMD launched its Zen3 powered Ryzen 5000 CPUs. As the month went by, many benchmark tests including Geekbench, PassMark etc. were conducted. Turns out that AMD's new Ryzen 5000s successfully beat a few Intel 10th Gen processors. On that note, new test scores also emerged. Read along to find out AMD Ryzen 5950X CPU-Z benchmark along with Ryzen 5800X.
Scores out for Ryzen 5950X CPU-Z benchmark test
Expectations have been running high from the word go when considering AMD's flagship Ryzen 9 5950X. The 16-core, 32 thread processor sits with the top offerings till date from AMD. Naturally, the top-end processor was put into speculation with PassMark and CPU-Z like benchmark tests. On the PassMark test the Ryzen 9 got the better of Intel's 10th Gen i9 by a fair margin. Scores for Ryzen 5950X CPU-Z benchmark test were also a big positive for AMD. It scored a total of 690.2 in the single-thread category while a staggering 13306.5 in multi-threaded. To put that into perspective, the 10-core Intel i9-10900K scores 584 and merely 7389 on single and multi threads. Even the Ryzen 7 5800X bettered the mentioned Intel processor. It registered scores of 650 single-core points, but lacked multi-core performance with 6593 points. Not bad, I'd say.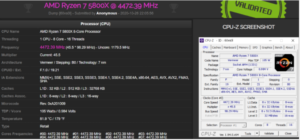 AMD would hope that the upcoming NAVI GPUs build on the platform Ryzen 5000 CPUs have provided. The Radeon RX 6000 GPUs will also feature on upcoming premium gaming consoles. The likes of Sony PlayStation 5, Xbox Series S and Series X will all be equipped with the Radeon GPU.