If you are interested in all things AMD, then you don't need a reminder of 8th October. The online event has been scheduled for today and the new Zen3 architecture will officially be launched. The stream will be available on Youtube. The Red brigade titled the stream as "Where Gaming Begins". This is a hint that clearly AMD's new desktop processors will be a step up in range of single processors. Along with the excitement for the launch was debate whether AMD are looking to change the naming trend here. This became clear just as soon the scheduled event went up on Youtube. AMD have decided to name the new family of desktop processors based on Zen3 as Ryzen 5000s. 
AMD Ryzen 5000 with Zen3 microarchitecture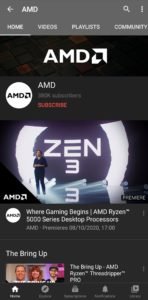 To those familiar with AMD's traditional way of numbering these desktop processors, a Ryzen 4000 Zen3 would make more sense. Seems like AMD got strangled in their own hierarchy and decided to take the convenient path. Well, good for them. So basically the crux of it is, Ryzen 3000 CPUs were succeeded by Ryzen 4000G and 4000U. They were essentially based on the same Zen2 architecture. So now the Zen3 architecture has been preferred as the Ryzen 5000 CPU. This however will be followed by Ryzen 5000G and Ryzen 5000U. Phew! That took some explaining. AMD would aspire to unsettle Intel who has been leading in the single processor internal graphics territory. The Ryzen 5000 series, codenamed "Vermeer" is speculated to have max out 12 core instead of 16. Tune in to AMD's online event to have a clear picture on the Zen3 Ryzen 5000 CPUs. 
Click here to go to AMD's Live Event. Premiere's in 4 Hours!