Tech brands are working effectively to make the best use of the recently released GeForce RTX 3090 graphic card. This card is being developed in different ways to work best with equipped computers/ devices. As the details about some custom cards are leaked already, the rest of the tech companies have maintained the confidentiality of this information.
The price of the custom RTX 3090 cards have been put together in this article, obtained from several sources. Currently, the prices of the custom cards developed by ASUS, MSI, EVGA, and even Gigabyte have been spotted on online shops.
You can easily get the pricing of products on many sites simply by typing the name of the product. BestBuy is one such site and the price of ASUS GeForce RTX 3090 (24GB) was spotted with price in the site (refer image below).
As you can see, with the "coming soon" tag, the price of this graphic card is revealed to be $1,799.99.
But finding prices of unreleased products on Newegg is impossible, as the site doesn't provide information about anything which isn't out for sale. But there is a trick where all you have to do is enter your product name and enter the price range in the filter. With that, you can trace the price of unreleased products.
A Redditor used this trick to find out the prices of some custom RTX 3090 graphic card. As you can see in the image below, EVGA GeForce RTX 3090 as well will cost $1,799.99.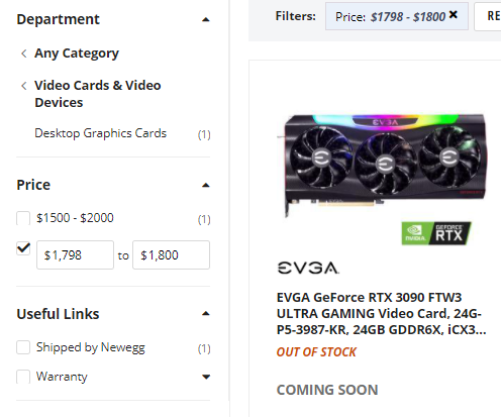 So ASUS ROG STRIX OC and EVGA FTW3 Ultra GeForce RTX 3090 will cost the same price- $1,799.99.
Along with the above mentioned graphic cards, the prices of many other developing custom RTX 3090 cards were posted on VideoCardz (refer image). Custom RTX 3090 card for ASUS TUF will cost the least out of all, $1,499.99.

We post related content and exciting updates every day, so stay tuned! Also, share this article with all those who might find this news helpful!