Realme stepped into the game under the massive name of BBK Electronics, parent of OnePlus. The brand focused on providing high-level processor and vibrant designs for the cheapest of prices. You can game, stream and multitask even in the mid-range devices that Realme provides. Realme is currently exploring other electronic devices and the upcoming launches in other categories are Realme Fitness Band and Realme Smartwatch.
Realme Fitness Band will be a high budget band, rumored to be available in three colors. The brand has promised some of the coolest specs which you will be reading about. Also, the fitness band will easily threaten its smartphone rival's Mi band too, so the wait is worth.
Realme Fitness Band Specifications, Features-
Starting with the display, we will get to see an AMOLED Display with full end color specs that will support and portray photos, animations, and different theme-related infographics. We will also get to see multiple watches faces, all accessible by touchscreen.
The Fitness band will be run by a dedicated Realme App that will connect with the band by Bluetooth. The fitness band will be launched with its dedicated sound control and volume buttons. Also, you will get access to the stream from various music streaming platforms.
The Band will be capable of tracking fitness activities like running, cycling, etc. The device will also sense the heartbeat rate as a fitness machine does. The gadget will show notification from apps like WhatsApp Facebook, etc. We will also be able to reject or silence calls directly from the Realme Band.
Realme Fitness Band Expectations-
Smartphones have completely conquered the minds of today's generation. Talking about fitness bands and smartwatches, people still haven't gotten into the habit of prioritizing these over mobiles. The mentality remains of why opting to something so small when everything is accessible with a bigger and better screen. Realme does have a fanbase but will have to completely change the phase by providing all the promised features and specs with a user-friendly interface.
Realme Fitness Band Price-
The official price of this device hasn't been confirmed yet. But the little gadget is not going to cost any less than Rs. 5000 to Rs. 6000.
Realme Fitness Band Release Date-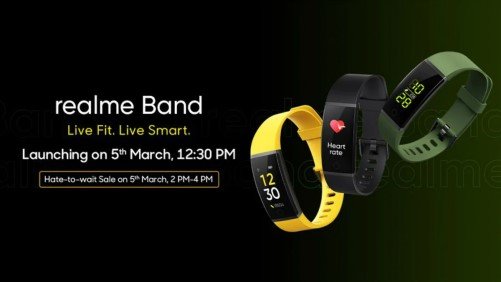 The official launch date of this Band is out. The device will roll out on the 5th of March 2020. The sale will take place from 2:00 PM to 4:00 PM on the Realme website under the sale name of Hate-to-Wait.
Note: We will update the article when we receive any news about the Realme Fitness Band, so stay tuned. Also, share this article with all those who are waiting for this gadget.