The Isle Of Armor DLC expansion pack for Pokémon Sword and Shield is going to hit the shelves soon. Due by the end of June this year, not much as been heard about it from the official sources. We have tried to compile everything we know about Isle of Armor from Nintendo Direct and data mining sources.
These new features include new items, new areas, new Pokémons etc. Here is an in detail look at it :
New Map
The events of the DLC will be set on an island located on the eastern offshore of the Galar region. It is set to feature new characters, new Pokémons and new locations for the players to explore.
So far the following landmarks  have been confirmed :
Dojo – located south of the map
Wild Area – stretches down the coast
Towers of Two Fists – one in the north and other other in the west
Cave – located at the very north of the map
The expansion will feature open and seamless gameplay with a lively map.
New Pokémons
Nintendo and Game Freak had promised plenty of the past generations starter Pokémons and Legendaries to arrive in the DLC. Here is the list of Pokémons confirmed to show up in Isle Of Armor :
Galarian Slowpoke
Galarian Slowbro
Galarian Slowking
Larvesta
Volcarona
Horsea
Seadra
Kingdra
Dedenne
Rockruff
Lycanroc (Day, Night and Dusk form)
Bulbasaur
Ivysaur
Venusaur (Gigantamax)
Squirtle
Wartortle
Blastoise (Gigantamax)
Magnemite
Magneton
Magnezone
Happiny
Chansey
Blissey
Regice
Regirock
Registeel
New Electric Regi Pokemon (Unconfirmed)
New Dragon Regi Pokemon (Unconfirmed)
Galarian Slowpoke
Galarian Slowbro
Galarian Slowking
Amaura
Auroras
Nidoran (Male)
Nidorino
Nidoking
Spheal
Sealeo
Walrein
Gible
Gabite
Garchomp
Zubat
Golbat
Crobat
Elekid
Electabuzz
Azurill
Marill
Azumarill
Beldum
Metang
Metagross
Zorua
Zoroark
Cryogonal
Fletchling
Fletchinder
Talonflame
Check out these new moves your Pokémons are going to gain in Isle of Armor.
Legendaries
In the Isle Of Armor, players will be working under a new mentor in the Dojo called Mustard. He will entrust them with the Legendary fighting type Pokémon, Kubfu.
Once they have Kubfu, they will have to take on the Towers of Two Fists. These towers are Tower of Darkness and Tower of Waters. Players can only choose one to take on, only with their Legendary equipped. After conquering the chosen tower, Kubfu will evolve into Urshifu.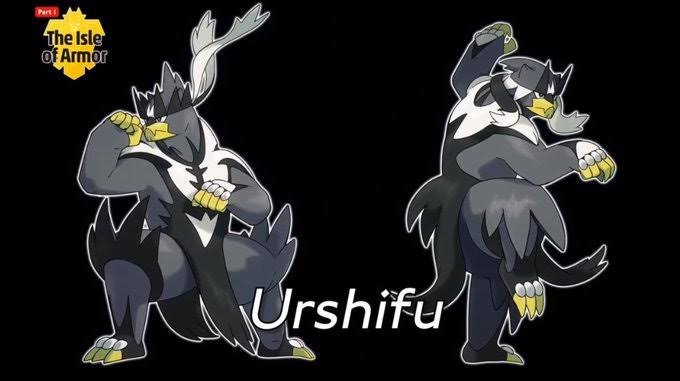 Urshifu has two distinct styles and will learn one depending on which tower you take on:
Single-strike style (Tower of Darkness) – a Fighting and Dark-type style that delivers a single strike at lightning speed
Rapid-strike style (Tower of Water) – a Fighting and Water-type style that focuses on unleashing a torrent of rapid strikes.
He also has a Giganatamax form with a brand new ability and a new move for each of its two styles.
Another Legendary Pokémon called Zarude is rumoured to be featured in the DLC, though no leaks have been made about it so far.
Gigantamax Form
As a reward for your efforts and hardwork throughout the Isle Of Armour, your starter Pokémon will gain a Gigantamax form. All three of the starters will learn the following move :
Rillaboom – Gmax Drum Solo
Cinderace – Gmax Fireball
Inteleon – Gmax Hydrosnipe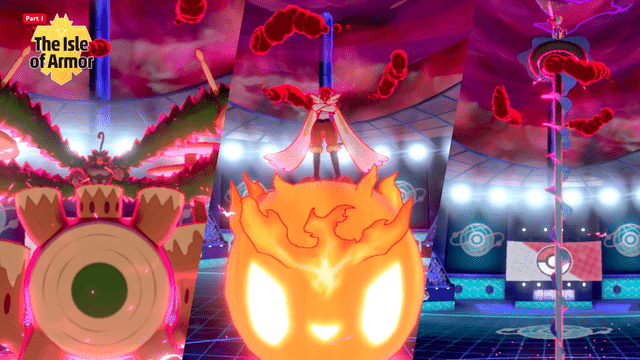 New Rivals
The new DLC rivals will be decided on the basis of the base game which you have purchased.
If you have purchased Pokémon Sword version then your new DLC rival will be Klara, a poison type trainer.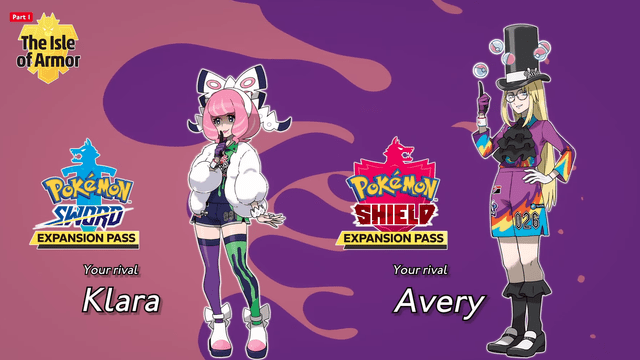 Whereas if you have Pokémon Shield then your new rival will be Averym, a psychic type trainer.
New Costumes
Over 100+ different costume customisation options have been confirmed to be present in Isle of Armor.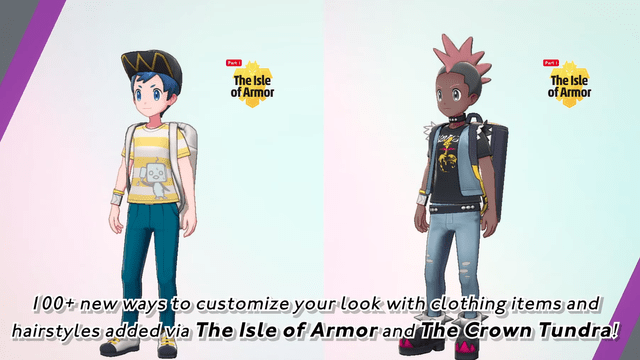 The Isle of Armor is going to be an expansive experience as a DLC and set to cost about $30 in USA. The follow-up expansion, The Crown Tundra is hypothesised to come out later this year. Be sure to check out on us for more Pokémon related news.