Lately reports have surfaced in which many users claim that their Pokémon Go account is getting flagged. According to them, the flagging us inappropriate and comes without any solid reason.
Many Pokémon Go players have expressed their discontent on social media platforms such as Reddit and Twitter. Majority of the complaints seem to come from innocent players whose accounts were flagged for unfair means of playing the game. Such inappropriate cheat detection is unfair and uncalled for.
To better understand this situation, we must take a look at how Niantic handles bans. They work on a "Three Strike Discipline Policy", the protocols of which are not set in stone. These strikes comes in a fixed order where the first one simple warns the player suspected for using unfair means. The following two strikes cause a 1 month ban and a lifetime account ban respectively.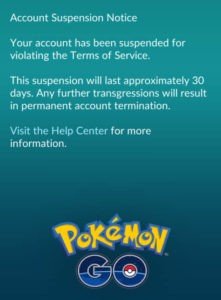 Some behaviour can also lead to instant perma ban as well. Usually an account is flagged or strike when the user is suspected by the server of attempting the following :
Using modded Pokémon Go account.
Spoofing, which is basically making the game think you are present somewhere where you're actually not.
Accessing something on the backend without proper authorization etc
How Niantic judges cheating is not disclosed however these were some of the common factors which lead to flagging.
Niantic has an appeal process where players can file for re-evaluation. In the current scenario of inappropriate cheat detection, many players have attempted to go through the appeal process. However to their disappointment, many of them have received generic messages which do not underline the cause of this issue.
The developers have addressed this issue via a tweet. They have assured the Pokémon Go users that that are investigating this issue and will share updates accordingly.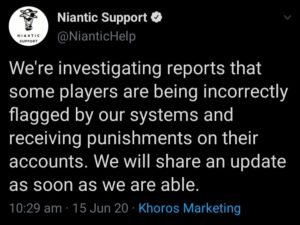 This seems to be an issue with the server allocated for cheat detection. Innocent players who are affected without a fair reason should not worry as a fix should be arriving soon. Niantic hasn't released a date for the fix yet but we are sure it shouldn't take long. We advise you to keep an eye on their support handle on twitter.
Click here to check out the leaked strikers coming to Pokémon Go.