One Piece Chapter 980 is releasing this Sunday, but raw scans have been already uploaded on various websites. As mentioned in One Piece Chapter 980 spoilers, Luffy gets angry after seeing the pirates talking about spilling Oshiruko into Okobore town. He puts some of them to the rest with a single shot of Elephant Gun and breaks the second floor of the mansion.
Zoro arrives there and sees that destruction has been already made. Luffy tells Zoro about Oshiruko. On the other hand, the Queen's men recognize him , but he and zero starts running from there. Apoo tells Queen about Luffy and Zoro invading Onigashima.
Queen announces that he is going to wipe one of the flying six himself which will leave one seat left. Everyone at the banquets seems motivated to get the spot and fired up to catch them. However, Apoo takes Luffy down with a single shot after eating something. He also cuts Zoro with an invisible slash. Luffy and Zoro decide to run away from the castle but they get surrounded. In the end, Kid arrives at the spot and hit Apoo with a barrage of metals for backstabbing him.
One Piece Chapter 981 Spoilers, Delayed Release Date
In One Piece Chapter 981 we may see Kid vs Apoo. The situation won't cool down easily as Apoo is hiding a mysterious power that Luffy and Zoro weren't able to notice. Kid may have a hard time for a few minutes, but he will defeat Apoo in the last. Since, Queen is also there we may see him taking action himself after Apoo's defeat. In that case, Zoro could go against him.
It will be interesting to see how the story will unfold, but we have to wait for two weeks for Chapter 981. Yes, the manga is on a week break again. One Piece Chapter 981 chapter will release on June 7, 2020 instead of  May 31 in the 27th WSJ issue.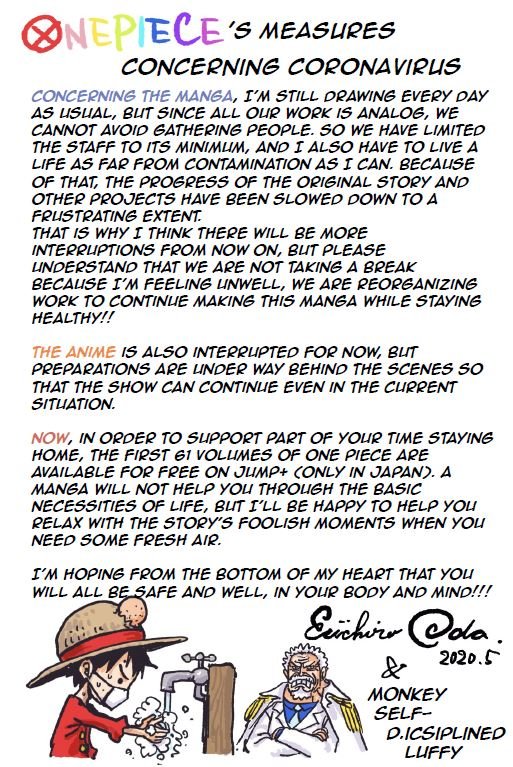 A few weeks ago Echiro Oda posted a brief explanation behind the breaks. He said that he usually takes break because of his health issues, but currently they are happening because of COVID-19. So we can expect more breaks soon.
Read More: