This decade brought us a lot of amazing stuff from the tech industry. We have been witnessing new developments that are way too amazing. Well, apart from smartphones and ultrabooks, we now also have some cool smart gadgets around us. Smartwatches, smart speakers, and whatnot have been changing the entire game. Smartwatches have gone a lot more popular than it was a while ago. These days many OEMs are stepping into the smartwatch game and have brought their smart bands and smartwatches to the market. Chinese brand Honor is not the one to be left behind.
Honor manufactures some of the best smart bands out there at a very attractive and affordable price segment. Honor Band 5 is currently the most advanced smart band from Honor. It does come with some really cool features and a beautiful design. All this only for 2000 INR. Isn't that cool?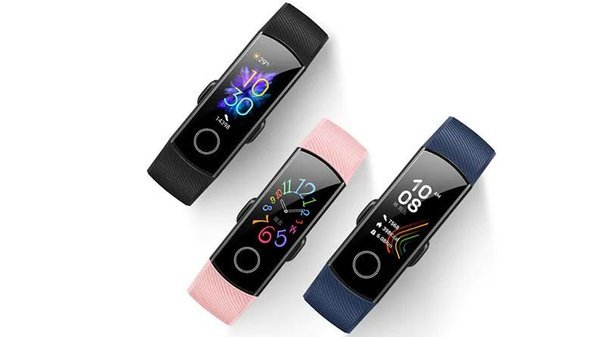 Honor Band 5 getting 1.1.0.150 update:
These days we have been seeing many OEMs pushing updates to their devices. They have also been working on their next iteration of updates already. Well, smartphones are not the only ones that get updated. Indeed other gadgets like smartwatches, smart bands, earbuds, and many other accessories also get updates these days.
This time, the Honor Band 5 got lucky. Honor is rolling out a new firmware update for the Honor Band 5. The latest update comes with the version 1.1.0.150 and does weigh only around 3.49 MB in size. Though the update does not bring any new features or major changes, it does claim to fix some bugs. It further also enhances and optimizes the overall experience for users. To sum up, this is a very minor update. That's not bad though. Its good to be getting frequent updates to ensure a better experience over time.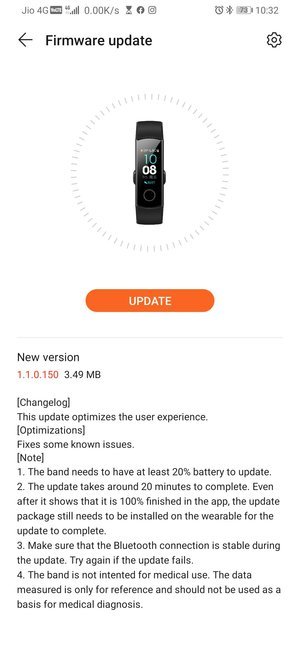 You can not directly update the band directly from the device itself. You will need to be connected to your smartphone to receive the update notification. You can then easily update your Honor Band 5 from your smartphone. Currently, the OTA update is rolling out in India. Well, we don't exactly know when it will be available for other regions. However, we hope to see all the units getting the updates globally soon enough.
Note!
You should receive the OTA update notification when you connect the band to your smartphone. You can update it from there. Before that you need to properly ensure that these few things are in place. Take a look below:
The band should have a charge above 20% before the OTA upgrade.
The upgrade takes about 20 minutes. Even after the app shows 100% complete, the band will continue processing the update installation. Have patience!
The band should be properly connected to the smartphone through Bluetooth during the whole process to avoid the update from failing.
Well, that's all peeps. After checking this above list, you will be good to go with the update installation.
Stay tuned for further updates on Honor Band 5 updates and more such related content. Also, share this article with all those people who have been rocking an Honor Band 5 on their wrists.