It is now officially confirmed that the next release from NVIDIA, another graphics card from the RTX 30 series is the GeForce RTX 3060 Ti. The main talk has always been about the RTX 3080 and 3090, or even the 3070 cards. The RTX 3060 Ti has not been in the spotlight because of the late announcement and the fact that it is a mid-range ampere card with restricted uses and possibilities.
But as the RTX 3060 Ti will be the first mid-range card of this year, a whole different set of the audience has been looking forward to the release.
RTX 3060 Ti is confirmed and is expected to be released by the end of October 2020. It is also a known piece of information that the GeForce RTX 3060 (non-Ti variant) is expected to get a release date soon. But currently, neither the release date nor specs of the non-Ti variant is known.
RTX 3060 Ti will feature GA104-200 GPU with 4864 CUDA cores. With 8GB of memory, the RTX 3060 Ti will come clocked at 14 Gbps. It is also reported that this card will provide 448 GB/s of bandwidth.
RTX 3060 Ti will be consuming more power than RTX 2070 and RTX 2060 SUPER because the custom boards of the 3060 Ti are rated at 200W with the reference board rated around 180W. It is a visible increase from the 175W rated RTX 2070 and 2060.
The RTX 3070 was officially announced a while ago. Hence, the details and specifications of the RTX 3070 have been surfing around online for days. And the release date too of the RTX 3070 has been confirmed- October 15, 2020. So the RTX 3060 Ti will be released after the launch of the RTX 3070.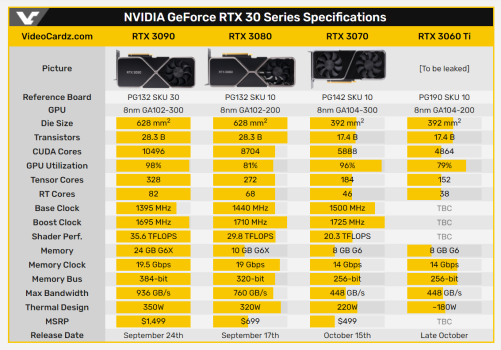 We post related content and exciting updates every day, so stay tuned! Also, share this article with all those who might find this news helpful!
Source: VideoCardz