Noble Fates is a new medieval fantasy-based 3D kingdom-building sim with a strong focus on moral choices and the consequences of the decision the player makes. Take charge of expanding your kingdom that leaves a strong impression on the neighboring countries by any means possible. You can build, craft, mine hunt, and defend your kingdom by wisely allocating crucial tasks towards your goal. As the game is currently in early access, there are many things that are bound to be removed or implemented and devs have shared their plans on what they're planning on adding to the game. Read on more to know more about the upcoming features of Noble Fates.
What are the current features of Noble Fates?
The game already added some of the current features in the game that will contribute a lot to fantasy simulation and add more life to the game. This way, players will have many ways to complete their objectives and expect 20-30 hours of gameplay before replayability. Without any further ado, here's the list of some of the current features that Nobe Fates has.
Magical Items
Trading
Time of Day
Weather
Ownable rooms and buildings
Multi-Story-Building
Multi-Level-Digging
Crafting
Farming
Taming & Pets
Procedural History
Procedural Kingdoms
Multiple Races
Fire & Flammability
Memories
Consequences
Conversations
Hunting
Prisoners
Serfs
Monsters
Rabid Animals
Escapees
Raids & Sieges
Magic
Demonic Invasion
Planned hotfixes for the game!
In order to deliver a quality product, devs are prioritizing the game even further and fixing common bugs, crashes, adding quality of life features, and balancing things. You can expect these hotfixes to be fixing the given errors. Here are some of the in-progress hotfixes that'll arrive in the future update of the game.
Crash fixes
Schedule Balance
Want Balance
Conversational Balance
Ambition Balance
Esteem Balance
Raid Balance
Skill Leveling Balance
Ranged Combat Balance
Intro Rerolling
Return to Main Menu
Mortal Naming
Key Rebinding
Content Updates
To expand the worldbuilding and replayability value, devs have planned new content that we'll be seeing in the future update of Noble Fates. From new buildings to newer world species, there's more and we can't wait to see all of them come to fruition. We've put together some of the planned content that will be arriving in the game through updates.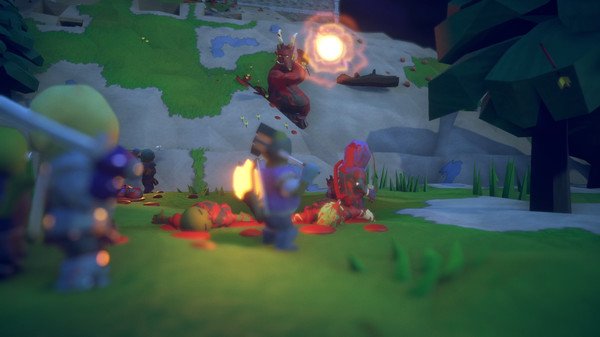 Seasonal Content
Christmas
10 New Gear Types
Wood Hammers
Bronze Hammers
Crossbows
2 New Building Tiers
Fine Stone
New Diplomacy Options
Tributes
Demands
25 New Decorations
Paintings
Statues
Paths
2 New Workshops
5 New Animal Types
Wolves
2 New Biomes
2 New Starting Scenarios
Peaceful
3 New Races
3 New Monster Species
5 New Gatherables
Planned feature
The new features will warrant a fresh playthrough of the game and will offer new experiences every time you start the game from the beginning. You can expect some of them every 6-8 weeks with a considerable size and will be announced weeks before the official launch. We've compiled some of the planned features that we'll see in the game in the future below.
Raiding Other Kingdoms
Defense 2.0
Dispatched Caravans
Dispatched Envoys
Highwaymen
Bounty Hunters
Epic Beasts
Dismemberment
Romance
Marriage
Lineage
Infidelity
Breeding
Lying
Deception
Animal Labor
Medicine
Alchemy
Hygiene 2.0
Enchanting
More Schools of Magic
Automation
Baking
Winemaking
Steam Workshop support and localization will also be included in the next feature update. This was all you needed to know about the Noble Fates Roadmap for 2022 & future updates shared by devs. Stay tuned for more updates at Digistatement.