At some point, you've probably imagined reliving your fantasy in a different world, building your territory, fending off monsters, crafting new items, hunting animals, and mining resources. If you have, then Noble Fates will satisfy your appetite for deep fantasy worldbuilding that emphasizes moral choices and decisions.
It is an upcoming 3D fantasy kingdom simulator that encourages you to build a kingdom remembered by many generations. The game begins with players assuming the role of an outcast who stumbles upon a crown where you have to anoint the ruler of the newfound kingdom and fend off those who rebel against them. But, does the game support multiplayer? Read on more to know about Noble Fates multiplayer co-op and its release date.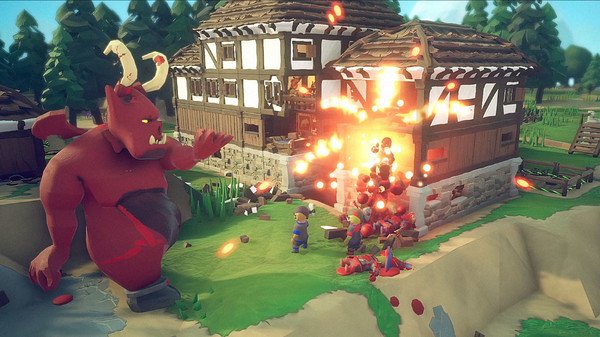 About the game
As Noble Fates is a medieval fantasy sim, there's more to it than simply building your territory as people also play a vital role in the game. Your decisions and choices also make a huge impact on the story and there are consequences as well based on the decision you made. Nobody forgets what you did, whether it be stealing their supplies, tending to their wounds, or killing their comrades? They talk about it and everybody reacts.
Throughout the game, you'll have to interact and recruit nobles to grow the kingdom ranks. They'll distribute wealth to feed people, pass on judgment to mortals when they commit wrongdoings, protect the kingdom from hostile kingdoms, build long-lasting alliances with the friendly neighboring countries. They'll stand tall in the admiration and pride or face the consequences of living as a tyrant. The story will go on as long as someone is left to wear the crown.
Gameplay
As Noble Fates is a 3D kingdom-building simulator, players will get to control their ruler in a third-person perspective view. You can fully explore your castle in real-time and immerse yourself with the little details implemented by the developers. Venture onto the lush and beautiful forest and experience the cinematic moments like hopping down from a battlement to slay your enemies.
Does Noble Fates offer multiplayer/co-op mode?
Based on the official sources, Noble Fates is currently focused on single-player mode as there is no mention of multiplayer or co-op mode for the moment. As the game is currently in early access, some things'll change and be implemented, and based on the positive reception of the game, there is a good chance devs might introduce multiplayer or co-op mode in the future, as the experience gradually changes significantly. Although it is unclear when it will happen, on the off-chance that if it does, we'll keep you informed about the latest news of the game.
Stay tuned for more updates at Digistatement.