Most of us know one side of Motorola which is the company sold to Lenovo and then acquired by Google, popularly known for smartphone manufacturing. But Motorola split up into two companies and the latter is known as Motorola Solutions. This company is known for some interesting products, mainly LTE based. From portable radio to many communications products, Motorola Solutions has a unique line-up of hardware products and tech devices.
Two new products from Motorola Solutions have appeared on the SIG Bluetooth certification. So, here we are with an article about them! Hours ago, the Bluetooth certification of these two new products was released online.
Motorola EVOLVE and Motorola EVOLVE-i have received the SIG Bluetooth certification. You can find the certification image below-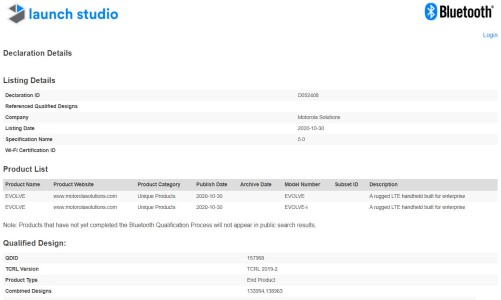 This product is listed under "unique products." You need to note that Motorola Solutions company has an LTE handheld series. The last edition is called the Motorola Nitro Evolve. The product is widely used for business purposes and also as the right replacement for mobiles at a restricted workplace.
Adding to the same series are the EVOLVE and EVOLVE-i, two LTE handheld products which are at the final phase before the official release. With Bluetooth 5.0 certified, the EVOLVE and EVOLVE-i are expected to share a lot of common specs with the Nitro Evolve model, like a dedicated PTT button, dedicated emergency button, talkgroup rocker switch, and more.
But where the specs will start to vary is the internal hardware features like RAM, camera, sensors, battery, and so on. But as the official announcement has not been made yet, the features and specs of the EVOLVE and EVOLVE-i products are not out yet (we will keep you posted).
We post related content and exciting updates every day, so stay tuned! Also, share this article with all those who might find this news helpful!