As 2021 is coming to the end, many yearly based games are awaited by players. Many gaming franchises like NBA, FIFA, WWE 2K, etc. get their new games released every year. MLB The show also joins this list. MLB The Show 21, was not a complete success when we compare it to MLB The Show 19 and MLB The Show 20. MLB The Show 21 received mixed types of reviews and was rated by various authorities at an average of three stars. So, this scenario has made the game fans waiting for the next release in this franchise. MLB The Show 22 is being awaited eagerly by many players out there. If you are also one of the players that are waiting for MLB The Show 22 and would like to know its release date, then continue reading this article till the end.
MLB The Show 22 Release Date
If we talk about official announcements about this game's release date, they are not out yet. But, the release date and platforms of the games that are releasing in the franchise are highly predictable. So, when you'll look into the release date of MLB The Show games of the last 5 years, you will notice that the publishers are releasing this game either in the last week of March or in the first few days of April (except the year 2020). Therefore, we can expect MLB The Show 22 to get released at the end of March 2022, or at the beginning of April 2022.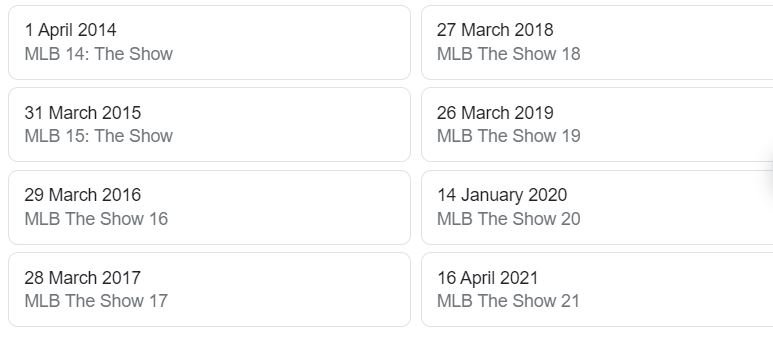 Other than the release date, the platforms on which this game will be releasing are also certain. The games in this franchise that got released before MLB The Show 21, were only published on PlayStation 4. But, MLB The Show 21 was published diversely on PS5, PS4, Xbox Series X & Xbox One. So, it is certain that MLB The Show will be releasing around the end of March 2022, or at the beginning of April 2022, for PS5, PS4, Xbox Series X & Xbox One.
Share this article if you found any valuable information from it. Comment below your takes on the release date of this game.
Read More:
Enjoy Gaming!!