Microsoft Flight Simulation 2020 has a wide variety of diverse locations that you can explore and have fun going to any part of the digital world, including airports of each city in the realistic aviation sim. It offers players plenty of airports to pick from and features a total of 37,000 airports that can take quite a considerable amount of time to visit. If you always had a favorite city in mind and you wanted to visit it very badly, you can turn that fantasy into the game and relive them as it offers the lifelike experience of what it feels like. To help you decide on which airports you should go to, we've picked the top 6 airports that you must visit and appreciate their beauty. Continue reading the article to know more about the game and the 6 best airports that you must visit.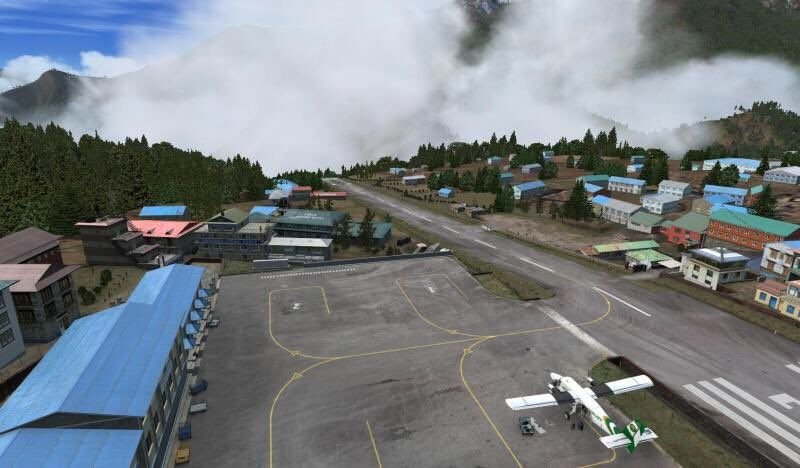 Airports in Microsoft Flight Simulator.
Given just how enormous amounts of airports are present in Microsoft Flight Simulator, it can be overwhelming for many players who are new to the game as well as longtime fans. The fascinating part about all of the airports that are inspired by their real-life counterparts is that they all have been modeled using satellite data. Few of them represent the distant and remote points on the planet. Some are even hard to reach in real life so exploring something like that gives the players a thrill and we can't help but agree. With that being, let's dive into the top 6 must-visit airports in Microsoft Flight Simulator.
Top 6 must-visit airports in MFS.
To make the most out of the Microsoft Flight Simulator experience, you can visit these 6 airports that'll make your day-
London city airport
One of the most popular cities in the world, London has a great vibe and atmosphere, including airports. When you descend into the airport, you'll notice the London eye, the O2, and several other landmarks.
Las Vegas McCarran international airport (night)
We all know Las Vegas is known for its exotic casinos and nightlife that can give a run to popular cities all around the world. Its airport is no exception as it comes to life with thousands of neon lights and colors illuminating it. It makes for a popular tourist attraction. MFS's improved lighting and graphics make it a sight to behold from above during takeoff and landing.
Gibraltar International Airport
Gibraltar International Airport is a perfect airport to test out your aviation skills and is a well-known airport in both the game and real-life as well. The interesting fact about this airport is that the "Rock of Gibraltar" next to the airport creates fierce turbulence, making it harder to approach it. It also has 4 lane main road running through the runway, meaning that you can spot new AI traffic awaiting your arrival or departure, which is a simple yet cool addition to the game.
Princess Juliana International Airport (St Maarten)
If you like beaches and blue tropical waters, Princess Juliana Airport is one of the best airports in the game and the real world. You can spot tree-lined mountains and cruise ships which makes it a one-of-a-kind experience. When taking off or arriving at the airport, you get to capture the magnificent view.
Lukla airport
This airport is considered one of the most dangerous airports among the pilots with a runaway of 1700ft and 2000ft cliff drop at the end of it. We all can guess what would happen if the pilot miscalculates the distance of the landing. The best part about this airport is that it's located near Mt Everest, giving you a great view of the scenery.
Innsbruck Airport
Innsbruck is a large valley located between towering mountains and like Lukla airport, it's also challenging to land here for pilots. While it's challenging, it's also a classic location for pilots to test their flying skills and get a good look at the beautiful scenery at the same time.
We hope that you enjoyed reading this article, stay tuned for more updates about Microsoft Flight Simulator 2020 and other news at Digistatement.