Medieval Dynasty's release date is coming closer day by day. However, many players who are still playing the early access or preview of this game are unable to find the saved game file location. If you are also one of the players who are not able to find the Medieval Dynasty saved game file, continue reading this article till the end to find it.
Medieval Dynasty is the upcoming action-adventure role-playing game developed by Render Cube and will be published by Toplitz Productions on September 23, 2021. As the title of this game implicates, the game takes you to the medieval age, and you are given a role of a young man who has fled from war. This man decides to take his fate into his own hands. You have to witness the journey of this man from being alone, incompetent, and inexperienced, till he masters many skills and becomes the leader of the prosperous dynasty. Coming back to the topic, here is everything you need to know about the Medieval Dynasty saved game file.
Medieval Dynasty saved game file
Locating the saved game file is very important for the players to track their in-game progress and achievements. For the players who are unable to find out their saved game file, you must head to this location:
C:Users\<YOUR USERNAME>\Appdata\Local\Medieval_Dynasty\Saved\Saved Games
However, there is a possibility that you might be saving this game on Steam Cloud. If you are unable to find the Steam Cloud Saved Game Files, follow the below-mentioned steps.
Go to Steam

Head to Library

Right Click on Medieval Dynasty

Go to Properties

Make sure that the checkbox of "Steam Cloud" is checked. From this panel, you can see how many MB of saved files you have in the Steam cloud storage.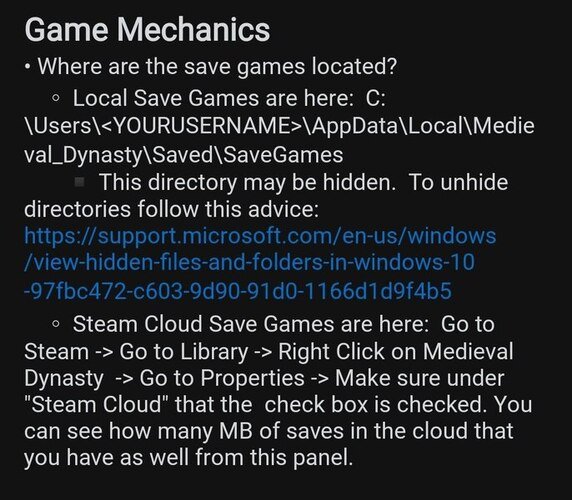 So, this was all about locating the Medieval Dynasty Saved Game file. The first process will work for most of the players who are reading this. If you found this article helpful, spread this article to your friends.
Read More:
Enjoy Gaming!!