If you are an active follower of what's happening in the tech world, recalling the launch of Samsung Galaxy Note10 would still hype you up. The Galaxy Note10 was a trendsetter, ridiculously good looking with too good a set of features. Also, the Note10 popularised the punch-hole camera, proving it was time for an upgrade from notch design.
But Samsung had planned much bigger things for the Galaxy Note10 at that time. Usually, a device is launched globally in one variant with multiple storage variants. We often get to see smartphones from China with one variant in the home market and one global variant. Surprisingly, Samsung had no plans of launching one variant of Galaxy Note10.
OneUI 2.5 for Galaxy Note10 (Korean and European versions)
The Galaxy Note10 was launched in 6 different regional variants and one global variant. This smartphone is distributed as all these different variants across America, South Korea, China, Brazil, Canada and united by the global variant for other places.
An exciting piece of news about Galaxy Note10 was posted on the international version of the social networking platform, Weibo. A tech enthusiast confirmed that Samsung is working on OneUI 2.5 for the Samsung Galaxy Note10 series. This version of OS will be based on Android 10.

When this interesting piece of news appeared online, Users swiftly replied how they felt about OneUI 2.5. Some users questioned the possibilities of the update on other Galaxy devices like S9. In contrast, some of them thought it would only be better if Samsung would completely invest all the efforts in bringing a greater OS successor, OneUI 3.0.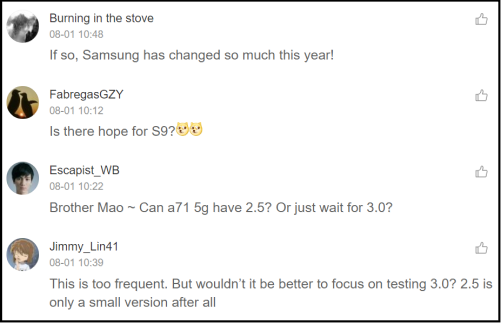 However, it is quite sure that OneUI 2.5 is under development for the very popular Galaxy Note10. So users, gear up for an even better experience and performance soon. Also, let us not forget how this could work out for the Samsung Galaxy S10 series too!
We post related content and interesting updates every day, so stay tuned! Also, share this article with all the Samsung Galaxy Note10 users.