Friday Night Funkin, a game that has redefined and preserved the beauty of the flash genre amidst the swarm of modern-day graphics and online gaming. It is simple, yet addictive. It's gameplay essentially revolves around using the arrow keys to sing/rap and dance to some music, but it's structure, storyline and community involvement have raised its stature and repute among all other games today. Is this game playable by people of all ages? More specifically, is FNF kid-friendly?. To know more, read on…
For the first-timers out there, Friday Night Funkin' is a rhythm game programmed by Ninjamuffin99 with a soundtrack by Kawai Sprite and artwork by PhantomArcade and evilsk8r. It can be downloaded from the Itch.io website for Windows, Mac OS, and Linux devices or played on Newgrounds for free.
With over 98 million views and a 4.77/5 rating on Newgrounds, FNF is one of the best rhythm games out there. There has been no age rating declared for the game as yet, but it is safe to say that it can be enjoyed by all ages alike. Kids especially can immerse themselves in the game and its addictive music.
As far as the question of whether the game is kid-friendly is concerned, the answer to it can be gleaned by understanding the game from a child's perspective. When kids play FNF, they play it for the catchy tunes and their only focus while playing the game is to hit the correct arrows on the board and make sure that they complete as many challenges as they can. If any "adult" stuff exists, it'll most probably go over their heads.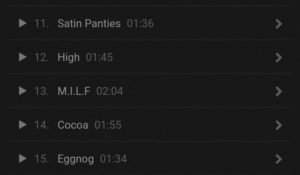 The part of FNF that isn't particularly kid friendly is its list of soundtracks. The OST volume 1 album consists of songs with names such as M **F, Satin **nties and high, which aren't exactly kid-friendly and repeated exposure to these tracks may have a bad influence on them. That being said, listening to the instrumental version without knowing the names of the track is also not something that'll hold for long, because kids usually engage in community discussions where all aspects of the game are discussed. They are bound to eventually figure out the name and meaning of these tracks.
Thus, FNF is partly kid-friendly, and partly isn't, but that shouldn't necessarily be a deterrent for kids to play the game. Supervising playtime and Internet search so that they don't delve too deep into the details of the game might be one way to ensure a kid-friendly FNF experience. Overall, the immersive gameplay of FNF is friendly and attractive to all age groups, but the knowledge about the specifics(such as the names of the tracks in the OST album)of the game isn't meant for everyone, especially for kids.