Since the start of the open beta, Hyper Scape developers have shipped a new patch, 0.4, for their battle royale game on July 17th, 2020. This patch is set to nerf some of the more overpowered guns in the game and some major hack changes. There will be several bug fixes to improve the gameplay.
Players that have got hands-on experience with Hyper Scape have found weapons like Gatling gun Hexfire, Komodo, and grenade launching Salvo to be overpowered and even the most unskilled players can easily get a hold of them. And many players reported issues related to bugs and hacks. The developers paid the most attention to these feedbacks and made some significant changes in the new patch.
This update solves major issues related to multiple bugs and balancing issues encountered since the Technical Test. So, without further ado, let us look at all the changes that were shipped in the 0.4 Patch.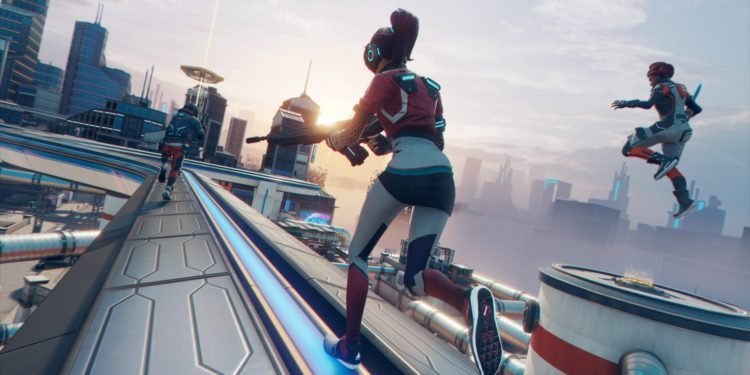 0.4 Patch Notes, July 17, 2020
Weapons
Salvo – Changed
Players reported that Salvo was way too powerful when encountered indoors in carpet bombing and they felt like even the most unskilled player could easily get a hold it. Keeping this in mind, the developers have reduced pushback on explosion to limit movement impairment. This weapon will now be slower and precise.
Rate of Fire reduced from 115 to 90 RPM.
Explosion Area of Effect (AoE) reduced from 4.5R to 3R.
Proximity radius reduced from 0.7R to 0.55R.
Physical Pushback reduced by 45%.
Damage increased from 22/22/22/22/28 to 27/27/27/27/34.
Komodo – Changed
This weapon was also very easy to control. So, the developers have made the necessary changes to make it more practical.
Damage increased from 22/22/22/22/28 to 25/25/25/25/30.
Strongly reduced Point-Blank damge.
Area of Explosion (AoE) reduced from 2.5R to 1.5R.
Hexfire – Nerfed
A bug was responsible for making the Hexfire too powerful in some cases. So, this bug has been fixed and the aiming skills required will be equivalent to the other weapons.
Hacks
Reveal – Buffed
The developers have increased the utility of this hack by making certain changes.
Detection Range increased from 50 meters to 60 meters.
Detection Angle increased from 40 degrees to 50 degrees.
Mine – Nerfed
Projectile HP reduced from 90 to 75.
Projectile Acceleration reduced from 8 to 6.
Wall – Nerfed
This hack was way too powerful in some cases, so the developers have made it more balanced.
Cooldown increased from 10/9/8/7/5 to 12/11/10/9/7 seconds.
Lifetime duration reduced from 120 seconds to 25 seconds.
Armor, Slam, Shockwave – Nerfed
Cooldown of Shockwave increased from 9/8/7/6/4 to 10/9/8/7/5 seconds.
Coldown of Slam increased from 10/9/8/7/5 to 12/11/10/9/7 seconds.
Armor duration decreased from 6 seconds to 5 seconds.
Game Modes & Systems
Showdown, Sector Decay & Crown
Sector Decay Damage increased a bit for the whole match.
Sector Decay Damage Showdown multiplier increased from x5 to x7.
Crown Bearer's Global Hack Cooldown Penalty increased from +33% to +50%.
Bug Fixes
Many bugs related to gameplay, weapons, hacks, events, UI, and online have been fixed.
For complete details and information, you can visit the official Ubisoft page by clicking here.