Huawei was banned from using any of Google's apps or Android OS in 2019. The brand's plans have since been questioned about all across. From fans to users, all of them have been worried about what alternatives Huawei will come up with. Talking about OS, Huawei didn't entirely ditch Android. Huawei mobiles still come with an open-source Android system but without GApps pre-installed. Also, the brand is working on Harmony OS which they are not just launching for their smartphones but as a rival operating system to Android and iOS.
But the work is still in progress because Harmony OS is only available for televisions and another couple of devices that represent the brand at the market. Adding to that, users still look for Google apps in Huawei devices.
The first step taken was to launch a Petal search, an alternative of Google developed by Huawei. The latest update comes up with a very important feature users were looking forward to.
Petal Search latest update: v10.1.2.30-
The latest update has heard the voices of the users. Petal search helped users to install apps and games that Huawei was banned from getting from Google. As Play Store is crossed out, Petal Search works both as a search engine and app finder. There are two major features brought in to immediate effect with the updated Petal Search.
APKMirror: The main app source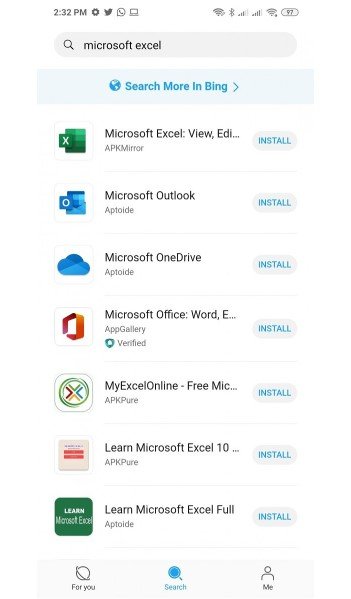 Firstly, Petal Search has prioritized APK Mirror as the primary app store for Huawei devices. Most users go for APKMirror if an app isn't available in Play Store. At times, APKMirror also holds the latest app updates even before it reaches Play Store. Hence, users always consider APKMirror as one of the best choices for app download. So, Petal Search will list up apps and games from APKMirror before anything else after listening to the feedback of many.
Support for Split Apps installation
The size of files and availability has always been a problem for some users. Therefore, the latest version extends support for installing split APKs. Split APKs are when an application is split in size to files (like a zipped document) for seamlessly installing to a device. With this, downloading apps get even easier.
Finally, it is great to see how Huawei is getting back to the game. Earlier, Petal Search never showed any of the pages from APKMirror. Without the Play Store, it was only a dozen times harder to find an app. But thankfully, the latest update has considered the demands. Above all, users had to install the Split Apps Installer app to be able to download applications of that format. But thanks to Huawei who have developed the app well enough to extend the support.
Rest assured, we post related content and updates every day, so stay tuned! Also, share this article with all the Huawei users!