HP has recently listed it's Pavilion Gaming 15 series of laptops in Europe. It showcases Ryzen 4000H processors and many other exciting specifications.
Display
Pavilion Gaming 15 has a 15.6″, 1920×1080 full HD screen. The display is non glare which makes it less harmful for prolonged exposure to the eyes.
The only downside in this section for some people could be the 60Hz screen in a 2020 laptop. However the other specs more than make up for this shortage.
Processor
It's all about clock speed when it comes to processing power of your system. How fast can your laptop go through tens of thousands of calculations per second matters.
It runs a Ryzen 5 4600H processor with 3.0GHz 6 cores in the lower models. The more costly variants feature the Ryzen 7 4800H with 8 cores for your extra speed needs.
Ram
The Ram component of the Gaming 15 CPU carries an 8GB DDR4-2400 chip in the lower models.
The higher models run with a 16GB DDR4-2400 and 3200 ram chip.
Storage
It can be a bit of a bummer to know that no Gaming 15 models have a hard disk drive.
To make up for it, HP has added a 512 gigabyte M.2 PCIe SSD. This will ensure an overall faster running machine.
GPU
A strong GPU is a necessity in 2020 for all the graphic intensive games on your wishlist. Thereby fear not as Pavilion brings the rendering power of Nvidia Geforce GTX 1650 graphics with GDDR5 Ram.
As you climb up the cost tree you will find variants with 1650ti and 1660ti Max-Q with 6 gigs of GDDR6 graphic card.
Connectivity
For wired connectivity this machine will feature :
1 HDMI 2.0 port
1 USB type-C 3.0 port
1 USB type-A 3.0 port
1 USB type-A 2.0 port
1 Gb Lan port
Wireless connectivity will be supported via WLAN 802.11a/b/g/n/ac and Bluetooth 5.0 connectivity.
General Features
Gaming 15 will run on the Windows 10 Home 64-bit operating system with FreeDOS in some of the higher models.
The laptop itself is 360×257×23.5mm in dimensions, weighing about 2.5 kgs and has a 7.7h average battery life. It showcases a shadow black finish and RGB backlit keyboards in all the variants.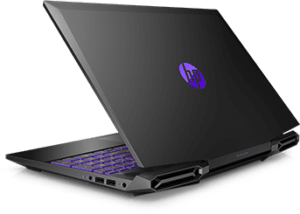 HP Pavilion Gaming 15 has been listed in Europe and ranges from €799 to €1199. It roughly translates to INR 68,615 to INR 1,02,966. The laptop comes with a standard one year warranty. It has been listed since 3rd June, 2020. Click here to read more in detail.