Call Of Duty Warzone Season 4 is out today. Announced via twitter, the update was made available for download at 11:30 AM IST.
Warzone Season 4 brings along with itself a hefty bunch of new features and modes. These new additions are sure to spice up your gameplay and put you on the edge. The update covers new challenges for your weapons, new events for the battle royale and a new mode coming to Verdansk.
Warzone Match Events
With Warzone Season 4, new events will be introduced to the tactical battle royale. The Warzone match events will be random occuring events set to impact the strategic approach to gameplay.
These events will occur without any prior notice with only one out of three happening per match. These three events are :
During the Jailbreak event, all the players who have been previously eliminated in the same match will be released back into the game.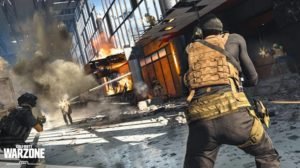 It doesn't matter if they are waiting for the 1v1 in Gulag or spectating their teammates, they stand a chance to be released back into the game. Before the Jailbreak event takes place, players alive in the match will get a 1 minute notice. They can collect additional weapon and gear for their returning teammate.
The Jailbreak can occur randomly anytime in the middle of the match. It makes it worth spectating your teammates for a chance to return. Players should keep in mind, it's not just your fallen teammate returning, but a bunch of enemies too.
During the Fire Sale event, the Buy Station will give a temporary discount of up to 80% ! It makes it perfect for buying UAVs, armor crates or lethal killstreaks for a small sum.
During the sale, buying back a fallen teammate is completely free. Loadout drops will be disconnected during the duration of the sale. The Fire Sale will last only for 60 seconds so expect a large crowd near the sale stations. Take out enemies quickly and avail your discount.
During the Supply Chopper event, a heavily armored, non lethal helicopter will hover over Verdansk. It will be passive towards players, carrying a lot of useful loot. The Supply Chopper can have 3 UAVs, 2 armor crates, 1 munition box, a gas mask and tons of cash at minimum.
The chopper will only serve for a short amount of time. Players have to take it out with a few well placed rounds or a couple of rockets for the loot inside. Be careful though, as others might be prowling on your hard earned supplies.
Contraband Contract
A new contract system is introduced which will reward players will permanent blueprints. The Contraband Contract is rare and spawns after the previous contract is completed.
Players will have to extract the contract at a designated location appearing on their TacMap. Doing so will earn them the blueprint. The contract brief case can be stolen from other players as well to benefit your teammates.
Warzone Rumble Mode
A new mode is coming to Warzone, called Rumble. In this mode, 2 teams each having 50 players will parachute down to a set location in Verdansk.
They will battle it out with high action custom loadouts and vehicles to come out on top. With quick respawns, it's just like the team death match experience of Call Of Duty, at a massive level set in Verdansk.
Weapon Mastery Challenges
Warzone Season 4 Update is bringing all new challenges for your weapons. These challenges will be unlocked after having gold unlocked for your weapons.
There will be 8 challenges per weapon earning you unique rewards. Grab a chance to get 4 Playcards and 4 Emblems. These challenges include 2 kill challenges, 2 headshot ones and 4 additional ones which need to be done in order (Gold, Platinum, Damascus and Obsidian).
Upon completing all 8 challenges for 51 weapons, players will receive a badass looking special sticker and Playcard.
Download Size
Infinity Ward is aware that Call Of Duty Modern Warfare and Warzone take up a lot of space on the disc. To tackle this issue they are going to compress a lot of assets wherever possible, in the future.
The Season 4 Update will be 4 GB in size on consoles. It's quite a hefty update so we recommend clearing up some space before updating.
For more detailed information on the Call Of Duty Warzone Season 4 patch notes, click here.