Perks are modifiers featured to the character in multiplayer aspects of Call of Duty Mobile. They passively affect gameplay, allowing further customization of classes. And they mainly affect the speed with which the player's equipment can be used, the physical properties of the player's character, the effectiveness of the player's equipment, and the usefulness of the enemy's equipment. The perks of COD Mobile have been in flux since the beginning of the year, as some have been removed, added, and moved.
Call of Duty Mobile boasts a great selection of returning perks from the Call of Duty franchise. The total number of available perks in the game is 18. And they are divided into three categories: Red, Green, and Blue. You can acquire each perk by reaching a certain level in the game. These perk slots unlock at levels 4, 6, and 12. The first set of Perks you will be able to unlock in the game are the Red perks. The Red perks include: Fast Recover, Persistence, Lightweight, Agile, Flak Jacket, Skulker, and Overkill. All these perks are currently available in the game to equip except Overkill.
How to unlock Overkill Perk in Call of Duty Mobile
Overkill is currently unavailable in Call of Duty Mobile, but you can expect it to release in the next season.  By using the Overkill perk, you will able to use the Akimbo skill. This means you will be able to carry two primary weapons at the cost of a secondary weapon – AR, LMG, SMG, or Sniper. Many players are eagerly waiting to find out how to unlock the Overkill perk and all the detailed information will be available for them soon.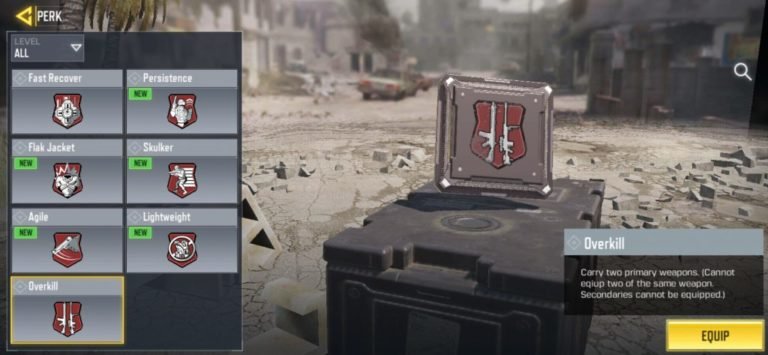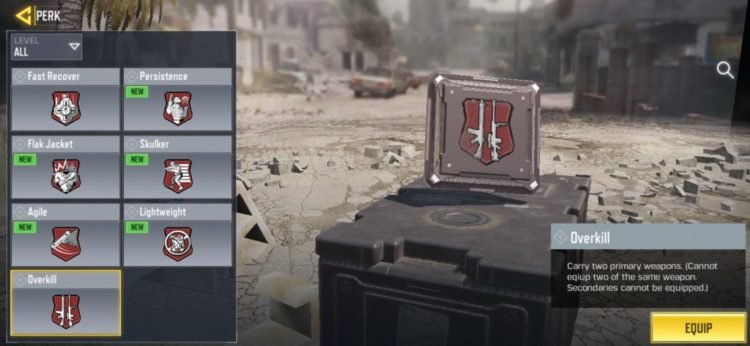 Shrapnel
In addition to this, the Shrapnel perk is now available to equip in the game. And it is a part of the Blue perk category. And this perk will give you the ability to spawn with an extra piece of lethal equipment. In order to unlock the Shrapnel perk, all you need to do is complete the Battle Pass missions and reach level level 14.