In Victoria 3, Bureaucracy stands for "your nation's capacity to keep things running". This can include unity in the country's administration, several costs borne by the government, etc. Simply put, without Bureaucracy, you cannot run or sustain the major aspects of your nation like supply lines, institutions, trade routes, or army. This is why increasing the level of Bureaucracy in Victory 3 is extremely crucial. Since the game is recently released, not a lot of players know how to increase it. Read the article to learn how you can increase Bureaucracy in Victoria 3.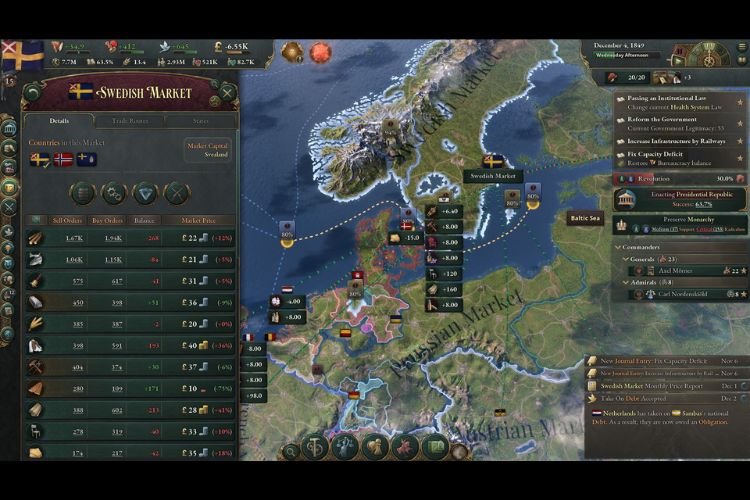 In order to run the nation smoothly, every single player would want to maintain a positive bureaucracy in the country. The negative impact of not doing so includes the failure of institutions, markets, and ultimately supply lines. Also, the level of bureaucracy has a direct impact on the standard of living of pops and Radicalism afterward. In Victoria 3, the mechanism of Bureaucracy works just like BOPs in economics. You just have to keep a positive balance. To put it simply, it means that the income from Bureaucracy must exceed the expenditure done on it. So, as long as you are maintaining a "Positive Bureaucracy", you are away from trouble. But, how to increase it?
Methods to Increase Bureaucracy in Victoria 3
There are two ways by which you can increase Bureaucracy, i.e, Increasing Income or Decreasing Expenditure. Let's go through them one by one:
Increasing Income
Constructing Government Administration buildings is the best way to fill the pockets of the government and increase its revenue. The main advantage of such buildings is that they boost income while giving other secondary advantages like a boost in Urbanization and Taxation Capacity. Don't forget to increase the supply of Paper in your country after constructing such buildings as such buildings consume a lot of paper.
Decreasing Expenditure
There are a few ways by which you can decrease Bureaucracy Expenditure. You can retire some staff like Generals or Admirals, enact laws like Hereditary Bureaucrats (Bureaucracy), Traditionalism (Economic System),  Consumption-Based Taxation (Taxation), Free Trade, etc.,
Another way to decrease the government's expenses is to not incorporate new states in haste. Incorporating new states after they have been added to your nation increases the Bureaucracy expenses. You can wait for a while and then start incorporating them eventually. Also, ensure to decrease the level of some institutions to reduce further costs.
So, these were the methods you can apply to increase Bureaucracy in Victoria 3. We hope you found this article helpful and informative.