The grand strategy game, Victoria 3 has recently been released on the PC platform. This game is developed by Paradox Development Studio and is published by Paradox Interactive. On Windows, anyone can purchase this game via Steam. The availability of this game on Steam raises a complementary question that whether this game can be played on Steam Deck or not. If you are also owning a Steam Deck and want to clear this doubt, then you are at the right place. Continue reading this article to know whether you can play Victoria 3 on Steam Deck or not.
Steam Deck has made the handheld gaming console industry more competitive and interesting. After Nintendo Switch, Steam Deck is the second most popular handheld video game console. Steam Deck is designed for prolonged hours of high-performance gaming and therefore, has managed to make a mark on the industry. A lot of PC folks out there are holding Steam Deck now and therefore, the game's availability on Deck is a crucial aspect in making the purchase decision regarding the game.
Can you play Victoria 3 on Steam Deck?
Yes, you can play Victoria 3 on Steam Deck. Though officials have not verified and given a green signal to run Victoria 3 on Deck, still a lot of players have run it themselves and are getting a decent experience out of it. So, if you are still having double thoughts regarding this game's purchase just because of the Steam Deck compatibility, then you must go for it.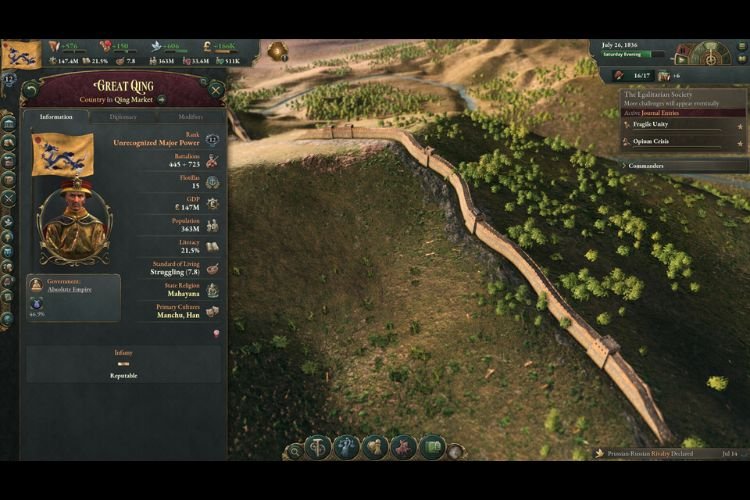 Currently, the players are not facing any major issues while playing the game on the Steam Deck, and are able to execute the game smoothly. Just like every other game, you have to customize the controls and layout on Steam Deck initially to get the best experience. For some players, the size of the text can be a considerable issue, but that too will be resolved when an official confirmation about Steam Deck support will be made. However, you can also install the font mods to help you out in this case.
When you progress ahead in the game, there may/may not be certain issues as the game is yet marked as "Unsupported" on Steam Deck. On Windows PC, this game is troubling a lot of players with issues like crashing due to bottle-necking of CPU/GPU. So, it can be an area of concern later. So, this was everything about the availability of Victoria 3 on Steam Deck. If you found this article informative, do share it with your friends.